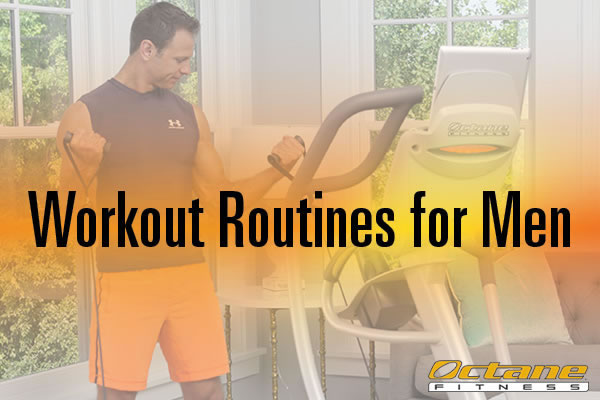 Men and women's bodies are made differently and there are different techniques that can be used by both sexes to heighten their workout results. So, in honor of Father's Day, we are discussing good workout routines for men.
In honor of Father's Day, here we consider workout routines for men. For overall fitness, it's important that men do cardio, strength training and flexibility work. Too often, we see men at the gym who only lift weights, or guys on the road who only run. Any exercise is usually helpful, but to optimize fitness, there is such a thing as too much of a good thing.
Enter cross training for a simple way to balance workouts and get results. Cross training is varying exercise with different modalities — such as running one day, lifting weights another, taking a boot camp class the next day, etc. Men should stay away from the tendency simply to jump on the bike every time they are at the club, ride at level 8 for 30 minutes and then lift a few weights, workout after workout, week after week.
Doing cross training not only benefits your body with different challenges and corresponding adaptations, but also benefits your mind with change the keeps you interested and motivated. Continually mixing up exercises helps you keep progressing.
An easy way to cross train is Octane's CROSS CiRCUIT, which includes workout routines for men such as basketball, baseball and golf. CROSS CiRCUIT combines cardio intervals on an Octane Fitness elliptical with strength training exercises – all as part of the same workout. So you ride the elliptical for a few minutes, and then the machine prompts you to step off and crank out intense repetitions of strength exercises. Then it's back to the elliptical; then a return to strength for the duration of the session.
With these specific CROSS CiRCUIT programs, exercises are customized to improving performance in these sports, addressing core strength, trunk range of motion, shoulder flexibility, leg endurance and more. The workouts are not only incredibly efficient, but are also effective in fitting in both cardio and strength in the same session. Plus, your sports performance likely will improve with this smarter, purposeful workout regime. Check out the variety of CROSS CiRCUIT routines available today to meet many workout needs – for men and women. And surprise your buddies on the field, court or course with your abilities!