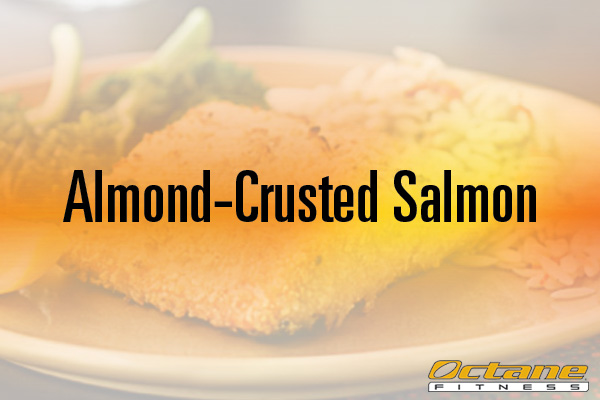 Salmon is among the healthiest meats. Which makes finding healthy recipes pretty easy. We looked through countless recipes and this almond-crusted baked salmon stood out among the rest.
The health benefits of salmon, and many other fish, are numerous because the protein from their meat is easily digestible and easily absorbed into the human body. Additionally, they do not carry the carcinogens found in some other meats. Eating salmon facilitates healthy muscle and tissue development, improves metabolism and reduces the risk of colon, prostate and kidney cancers; and that's just naming a few benefits! If you're not convinced yet, try this delicious recipe, on of many healthy recipes for salmon, and you'll hooked.
Healthy Recipes: Almond-Crusted Salmon
Ingredients
1/4 cup almond meal
1/4 cup panko
1/4 teaspoon ground coriander
1/8 teaspoon ground cumin
4 (6-ounce) salmon fillets, about 1-inch thick
2 teaspoons lemon juice
1/2 teaspoon kosher salt
1/4 teaspoon freshly ground black pepper
4 lemon wedges
Cooking spray
Preparation
Preheat oven to 500°.
Combine first 4 ingredients in a shallow dish; set aside.
Brush tops and sides of fish with juice: sprinkle with salt and pepper.
Working with 1 fillet at a time, dredge top and sides in almond mixture; place skin side down on broiler pan coated with cooking spray.
Sprinkle any remaining crumb mixture evenly over fish; press gently to adhere.
Bake at 500° for 15 minutes or until fish flakes easily when tested with a fork or until desired degree of doneness.
Serve with lemon wedges.
Enjoy!
The above recipe was found on CookingLight.com. To see the original posting, which includes nutrition information, click here.
Information on the health benefits of salmon were found on OrganicFacts.com.