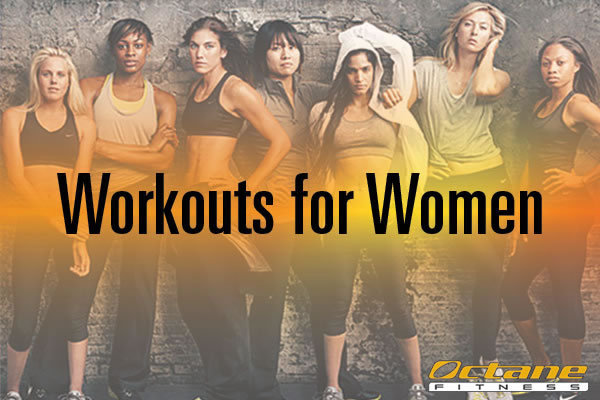 For optimal health and fitness, women should include cross training, such as cardio, strength and flexibility work, within their regular workout regimen. Tennis players or golfers also should add sports-specific workouts to improve performance.
In terms of workouts for women, Octane Fitness ellipticals and the new SmartLink app deliver valuable variety and motivation for greater adherence and results. Available for free download to an iPad® at iTunes®, SmartLink can design custom workout routines for specific goals and for set timeframes, such as 30, 60 and 90 days.
Woman can take advantage of SmartLink to follow a personalized plan that will help them progress and see results. Or they also can mix and match workouts on their own with SmartLink's vast array of predesigned routines, including Octane's CROSS CiRCUIT cardio and strength regimens that combine cardio sessions on the elliptical with intervals of strength training exercises for the ultimate in cross training effectiveness and efficiency.
Some new CROSS CiRCUIT programs that appeal to women include yoga strength, yoga balance, golf and volleyball, among more than 30 others. Individuals can choose from more than 225 exercises in CROSS CiRCUIT to add variety and challenge to workouts as well.
For an extra push, Workout Boosters, such as GluteKicker, X-Mode and ArmBlaster, are illustrated via video in SmartLink, so exercisers can focus on proper form and execution for maximum cross training benefit.
When it comes to workouts for women, Octane elliptical machines plus SmartLink offer a virtually endless variety, with periodic updates and new programs to keep exercisers on track.