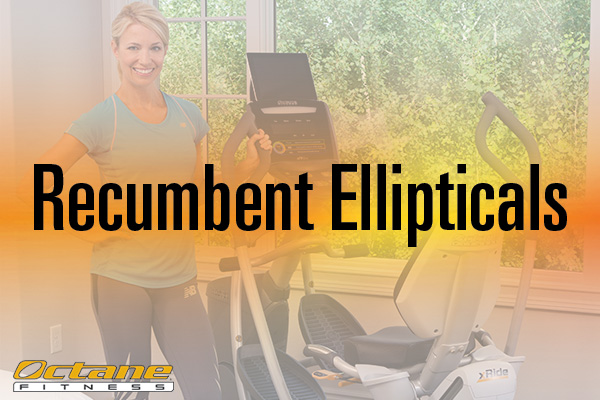 Recumbent bikes are popular exercise machines because they deliver no-impact cardio workouts that are easy on the joints and comfortable to the body. But what about workout results?
Some ambitious exercisers can multi-task on a recumbent bike, choosing to read, check email or surf the Web while pedaling. These factors all contribute to the popularity of recumbent bikes but what about workout results? For a better seated workout, with unparalleled results, try the new xRide recumbent ellipticals from Octane Fitness.
What makes the xRide recumbent elliptical better?
Total-body workout – Unlike a recumbent bike, you work your upper body on the xRide to push and pull the handlebars.
Greater caloric expenditure – Thanks to Octane's exclusive PowerStroke technology, you use more muscles in the legs with a greater range of motion, forward and backward, resulting in 23% more calories burned and three times as much glute involvement  than on a recumbent bike.
Workout boosters – With X-Mode, Chest Press and Leg Press, benefit from built-in muscular endurance training that targets different parts of your body during your cardio session. You just can't do that on a recumbent bike.
Upper-body blast – Stationary foot pegs let you periodically isolate your upper body while you take the legs out of the action. This is a great way to add variety and challenge the back, chest, shoulders and arms.
Advanced training – Just because it has a seat doesn't mean that the xRide only delivers easy workouts. Train like an athletic with customized interval workouts or the intense 30:30 Interval, which boosts strength and stamina.
Customized comfort – Thanks to the Active Seat Position that has multiple height and tilt adjustments to open up the torso and maximize use of the hip muscles, along with a supportive backrest, you get a custom fit everytime.
Engaging electronics – New SmartLight technology signals how hard you're exercising, if you're in your target heart rate zone and when to prepare for the next interval in a Workout Booster.
SmartLink compatibility – Octane's free SmartLink app connects to and controls the xRide from an iPad®, and develops customized workouts based on your personal goals and exercise schedule. Plus, it tracks your results so you can monitor and share your progress on social networks. And with free app updates, you get a slew of new workouts.
Why use a recumbent bike when you can get so much more from an xRide? It's the best seated workout available today.