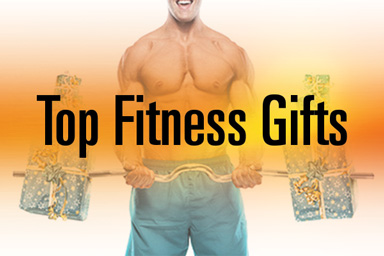 Tis the season to give gifts, and rather than offer more calorie-laden treats, why not deliver a unique present that keeps on giving? A fitness gift that encourages your family and friends to exercise is a terrific investment in their health and can help instill lifelong good habits.
Lots of options exist when it comes to presents that promote fitness, and what you select depends on your budget and the recipient, and if they have a current workout routine or need to start one. Some diehard fitness devotees already may own some great gear, so check out what they use to ensure that you don't choose a duplicate item.
Keeping in mind what would best serve your recipient, review the list below of some top fitness gifts for the holidays:
Fitness tracker – This wrist accessory doesn't necessarily make people fit, but make them more aware of how many steps they are taking and calories they are burning, along with a glimpse into their sleep habits. This can provide motivation to move more, eat better and prioritize sleep. Some fitness trackers vary a bit in terms of what information they deliver, but they all are a good choice for someone just starting to get active or for those who love the latest tech gadgets.
Heart rate monitor – With a strap you wear around your chest and a wristwatch receiver, heart rate monitors are easy, accurate ways to measure how hard you are working. You simply calculate your training zone and then instantly know whether you're not working hard enough or are overexerting. Like fitness trackers, heart rate monitors come in a variety of models – from basic to sophisticated – and some calculate caloric expenditure, time in zone and even have GPS capabilities. For the beginner or the exercise enthusiasts, this is a valuable gift.
Stability ball – For the budget-minded, these big, colorful orbs give home exercisers a ton of options for strength-training and core work. Some come with accompanying recommendations for usage, or a quick online search yields a ton of suggestions.
BowFlex SelectTech dumbbells – Most home exercisers have to contend with limited space, so these adjustable dumbbells are ideal, as they change from 5-90 pounds each, depending on the model. Replace a room full of dumbbells with these compact tools, and benefit from a free training app that shows individual exercises, full workouts or 6-week training plans. It's like having a full weight room at home.
Zero Runner – This one-of-a-kind trainer enables virtually anyone to run by replicating natural running motion while completely eliminating the stressful impact. You get all the benefits of walking, jogging or running – with none of the discomfort! Plus, the CROSS CiRCUIT program combines cardio and strength training for more effective, efficient workouts. And the free SmartLink app offers training programs for 5Ks, 10Ks, half-marathons and marathons.
Foam roller – Inexpensive and simple, foam rollers offer therapeutic self-massage, loosening tight muscles, releasing myofascial tissue, helping prevent soreness and stiffness and stimulating circulation. They usually come with descriptions of various ways to use them. Anyone who has used one can attest to their "hurts so good" benefits. A must-have for any home gym!
Apparel – Ditch the old, shapeless cotton tees that absorb sweat and feel heavy, and wear comfortable, sweat-wicking apparel that can help you keep cool and dry. Lose baggy sweats and investigate the many options for shorts, pants and capris. Workout attire comes in all colors and styles to suit personal preferences – and at a variety of price points. If you look better, you'll feel even better when you exercise.