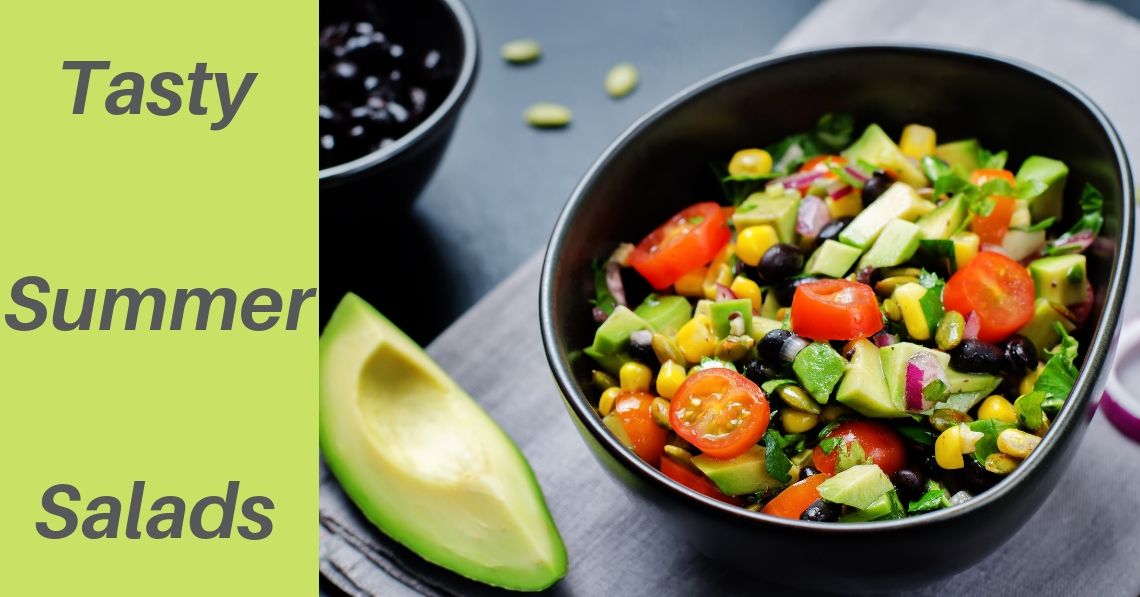 Take advantage of the variety of fresh fruits and vegetables available during the summer, and experiment a bit with different recipes to shake up your taste buds.
When the heat is on outside and you want to eat lighter, or don't want to cook, toss together these tasty summer salads as a side dish or a full meal. They're healthy, delicious and keep you fueled.
Tasty Summer Salads
1/4 c. extra-virgin olive oil
Juice of 1 lemon
1/4 tsp. cumin
Kosher salt
Freshly ground black pepper
3 avocados, cubed
1 pt. cherry tomatoes, halved
1 small cucumber, sliced into half moons
1/3 c. corn
1 jalepeño, minced (optional)
2 tbsp. chopped cilantro
In small bowl, whisk together oil, lime juice, and cumin. Season dressing with salt and pepper.
In large serving bowl, combine avocados, tomatoes, cucumber, corn, jalapeño, and cilantro. Gently toss with dressing and serve immediately. 4 servings.
1 red pepper, diced
1 ripe mango, cubed
1 small cucumber, chopped (1½ cups)
½ small red onion, diced (1/3 cup)
1 small garlic clove, minced
1 (14-ounce) can chickpeas, drained and rinsed
½ chopped fresh herbs (mint, basil, and/or cilantro)
½ cup uncooked orzo
Extra-virgin olive oil, for drizzling
1 packed cup arugula
¼ cup toasted pine nuts
For dressing:
2 tablespoons tahini
2 tablespoons extra-virgin olive oil
2 tablespoons fresh lemon juice
1 tablespoon sherry or white wine vinegar
½ teaspoon cumin
½ teaspoon sweet paprika
2 tablespoons water
½ teaspoon sea salt, more to taste
freshly ground black pepper
In large bowl, combine red pepper, mango, cucumber, red onion, garlic, chickpeas, herbs, salt, and several grinds of fresh black pepper.
Cook orzo according to package directions or until al dente. Drain, gently rinse, toss with a little olive oil and set aside to cool to room temp before adding to the salad.
Make dressing. In a small bowl, stir together tahini, olive oil, lemon juice, vinegar, cumin, sweet paprika, salt and pepper. Add a few tablespoons of water until it's a drizzle-able consistency.
Add orzo, dressing, and arugula to the salad and toss to coat. Season to taste and top with toasted pine nuts. 4 servings.
1 lb. penne
1 tbsp. extra-virgin olive oil
2 boneless skinless chicken breasts
1 tsp. Italian seasoning
1 tsp. garlic powder
Kosher salt
2 c. chopped romaine lettuce
1 c. halved grape tomatoes
1/2 c. freshly grated Parmesan
1/2 c. croutons
2/3 c.  Caesar dressing
Juice of 1/2 lemon
1 tbsp. freshly chopped parsley
Freshly ground black pepper
In a large pot of salted boiling water, cook penne according to package directions until al dente. Drain and transfer to large bowl.
Meanwhile, in a large skillet over medium heat, heat oil. Season chicken with Italian seasoning, garlic powder, and salt. Cook until golden and cooked through, 8 minutes per side. Let rest 10 minutes, then cut into 1″ pieces.
Add romaine, tomatoes, Parmesan, croutons, and chicken to pasta bowl.
In medium bowl, whisk together Caesar dressing, lemon juice, and parsley and season with salt and pepper. Pour over penne mixture and toss to combine. 8 servings.
2 lb. asparagus, trimmed and cut into 2-inch pieces
1 tsp. grated lemon zest, plus 2 tablespoons lemon juice
3 tbsp. plus 1 teaspoon olive oil, divided
3 tsp. fresh thyme leaves, divided
3 tsp. pure honey, divided
1 (8-ounce) block feta cheese
8 oz. snap peas, sliced
1 bunch radishes, sliced
Kosher salt
Freshly ground black pepper
Heat oven to 425°F. Bring a large pot of salted water to a boil. Cook asparagus, in batches, until crisp-tender, 3 to 4 minutes. Run batches under cold water to cool; pat dry.
Whisk together lemon zest and juice, 3 tablespoons oil, 2 teaspoons thyme, and 2 teaspoons honey in a bowl. Season with salt and pepper.
Place feta in the center of a large piece of aluminum foil. Drizzle with remaining teaspoon oil, remaining teaspoon thyme, and remaining teaspoon honey. Season with salt and pepper. Pull the foil up around the feta to create a pouch. Bake until warmed through, 14 to 16 minutes. Drain excess liquid and crumble with two forks.
Toss together snap peas, radishes, cooked asparagus, and vinaigrette. Serve immediately topped with warm feta. 8 servings.
8 slices bacon
1 4-ounce piece rustic country-style bread
⅓ cup mayonnaise
2 tablespoons fresh lemon juice
Kosher salt, freshly ground pepper
⅓ cup olive oil
Pinch of sugar
¼ bunch or a very small handful of chives
2 romaine hearts
1 pound ripe juicy tomatoes, cut into bite-size wedges or slices
1 large avocado, sliced
Preheat oven to 350°. Arrange 8 bacon slices side by side on a small rimmed baking sheet, overlapping slightly if necessary.
Bake bacon, removing sheet from oven and turning slices with tongs halfway through, until slices are deep reddish brown with crispy edges, 25–35 minutes. Increase oven temperature to 425°.
While bacon is cooking, cut crusts off bread; discard. Tear bread into 1″ pieces. Don't worry if pieces end up in different shapes and sizes. You should have about 2 lightly packed cups.
Transfer bacon to a paper towel–lined plate and blot with more paper towels to absorb excess fat. The bacon will crisp as it cools. Reserve baking sheet with bacon fat.
Scatter bread on reserved baking sheet and toss with tongs until bread is evenly coated in fat. Bake bread, tossing once halfway through, until pieces are golden all over and crisp, 10–15 minutes. Let cool.
Meanwhile, whisk ⅓ cup mayonnaise and 2 Tbsp. lemon juice in a medium bowl. Season with salt and lots of pepper, then slowly stream in ⅓ cup oil, whisking until dressing is thick and emulsified. Whisk in a pinch of sugar; set aside.
Thinly slice enough chives to measure 2 Tbsp. and whisk into bowl with dressing. Slice remaining chives into 1″ pieces; set aside.
Halve 2 romaine hearts lengthwise, trim off root ends, then cut each half in half again crosswise. Arrange lettuce pieces on a large platter or divide among individual plates. Season with salt and pepper and drizzle about a third of the dressing over top.
Arrange tomatoes, avocado, and croutons over and around lettuce pieces. Break up cooled bacon into rough 1″ pieces and scatter over salad. Drizzle with remaining dressing.
Sprinkle with reserved chives and serve. 4 servings.
2 c. corn kernels (from about 2 ears)
1 (15-oz.) can chickpeas, rinsed
1 seedless cucumber, quartered and cut into 1/2″ pieces
2 scallions, white parts finely chopped, green parts thinly sliced
2 tbsp. extra-virgin olive oil
2 tbsp. fresh lime juice
1/2 c. fresh cilantro leaves
In a large bowl, toss together the corn, chickpeas, cucumber and sliced scallions.
Heat oil and chopped scallions in a small nonstick skillet until warm (do not let sizzle). Pour over the corn mixture, then toss with lime juice and cilantro. 8 servings.
2 cups blueberries
1 cup raspberries
2 cups red grapes
1 pint of strawberries, halved
3 kiwi, sliced
2 mangos, diced
3 cups pineapple chunks
Add all fruit to a large bowl. Gently toss with a wooden spoon. Serve. 8 servings.