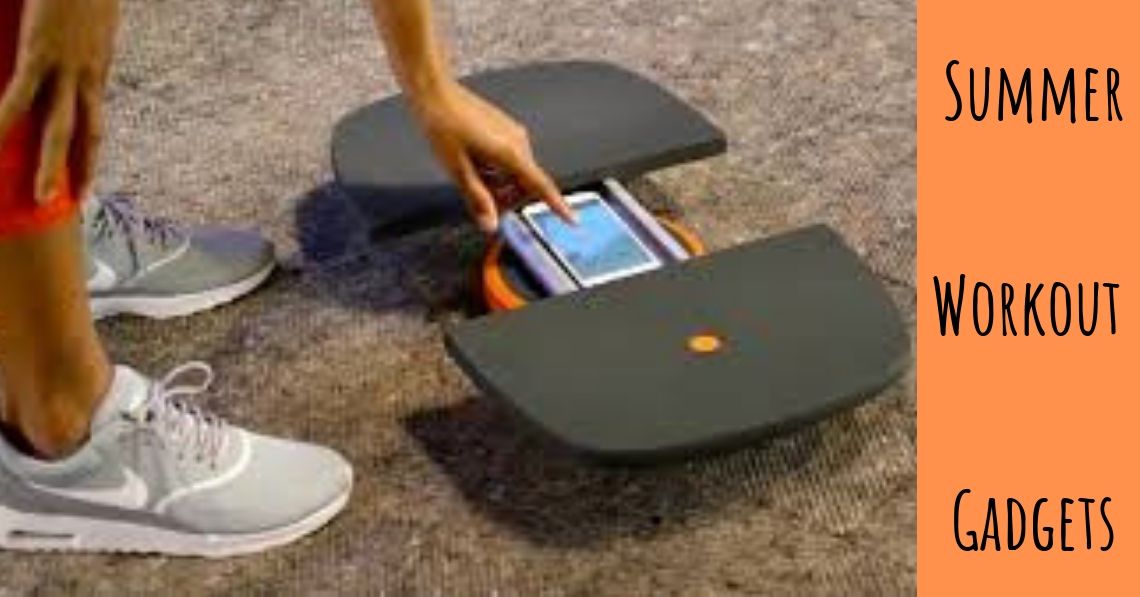 With summer now in full swing, be sure to get outside for workouts when you can and take advantage of the great weather. Don't let the slower pace of the season, frequent travel or vacations derail your workouts. While taking breaks is certainly healthy, you don't want to skip exercise for weeks at a time, as your fitness level will decline and it will be tougher to get back into a routine.
For some extra motivation, new apparel, music or fun accessories can help keep you going on days you may be tempted to lounge in a hammock instead. We're not talking about smartwatches or fitness trackers, which are great but well-known. Here are some unique recommendations for summer workout gadgets that add inspiration to your perspiration.
Summer Workout Gadgets
IDEATECH Instant Cooling Towels ($19.99) – Who said that gadgets have to be high-tech, anyway? An alternative to traditional 6-packs, the IDEATECH Instant Cooling Towels come in six fun bright colors and can be used as a towel, scarf, headband or bandanna. Simply soak the towel in cold water, wring and stretch it out and apply to skin for an instant cooldown during hot summer workouts. As a bonus, these machine washable towels have a built-in UPF of 50.
SmartRope ($90) – Jumping rope is excellent cardio exercise, and you can do it anywhere, inside or out, even when you're traveling. The Smart Rope has comfortable grips and an LED-embedded display that gives you data as you jump. Connect it to your smartphone and it tracks jumps, calories, time and more. Plus, it comes in various cool grip colors.
SmartHalo Bike System ($130) – SmartHalo attaches to the handlebars on your bike and provides turn-by-turn or compass-style navigation displayed through its halo of light, which also makes you more visible on the road. The light turns on and off automatically. Plus, benefit from fitness tracking that also starts and stops automatically, convenient notifications and an alarm that triggers if someone tries to steal your bike.
Resistance Door Gym ($25) – If you can't get to the gym, just bring the gym to any door nearby with this nifty set-up. Simply attach to a door and use the resistance bands and foam handles for resistance training for your upper and lower body, such as chest press, rows, squats, lunges and more. This is perfect to toss in your suitcase for on-the-road workouts.
Modern Movement Edge-Board ($69) – Fire up your core and more with this handy full-body extension trainer. Use your hands or feet to activate the board and add challenge to push-ups, planks, lunges and other body weight exercises. The free M-Trac app gives you trainer-led workouts and tracks your progress.
Vyper 2.0 Vibrating Fitness Roller ($199) – Not just your everyday foam roller, the Hyperice Vyper 2.0 Fitness Roller adds vibration to this love-hate experience. Equipped with three power levels and a two-hour battery, this high-tech cylinder helps alleviate muscle pain, works out kinks, improves flexibility and stimulates circulation so you feel better after and between workouts.
PowerDot Electrical Muscle Stimulator ($189) – With HIIT the workout of choice today, exercise recovery is becoming even more important. PowerDot is a small, portable electric muscle stimulator that helps relieve soreness and pains in tired muscles. Simply apply the pads where your body needs attention, and use the PowerDot app on your phone to control the level of stimulation. Specific programs can help promote recovery, increase muscle performance or provide massaging relief from stress.
Of course, don't just use these fabulous summer workout gadgets in June, July and August, but capitalize on them year-round!