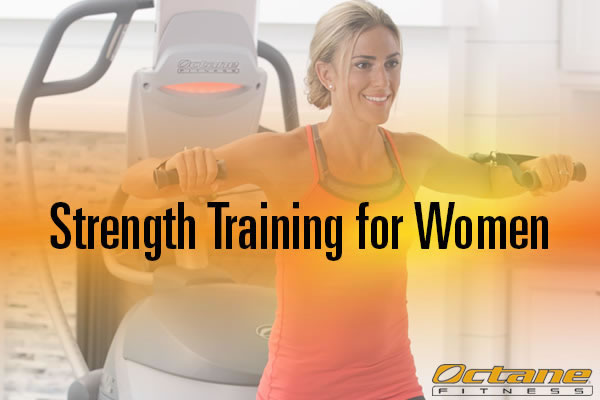 For years many women believed that, if they wanted to have a "feminine" body, they should avoid strength training. It was thought that strength training would make women too bulky or muscular. Thankfully, that way of thinking has began to fade in recent years. In fact, strength training for women is key to a healthy lifestyle and balanced workout routine.
Women seeking to tone up and improve their fitness level should incorporate strength training, which has been shown to deliver many benefits. Among them:
Greater muscle tone
Increased muscle mass
Higher metabolism
Better overall fitness
For those who don't know where to get started, the CROSS CiRCUIT program on Octane Fitness ellipticals incorporates strength training exercises with cardio intervals on the machine for an ultra-efficient, effective routine. Get the most return for your workout time by combining cardio and strength for a total-body blast!
Even better, Octane elliptical users who download the free SmartLink app on their iPad benefit from a virtual personal trainer who guides them every step of the way. SmartLink includes more than 35 workout routines and 225 exercises demonstrated on video to provide instruction and coaching to maximize productivity and motivation.
With CROSS CiRCUIT, strength training for women includes popular body weight exercises, or moves with dumbbells, barbells, Octane's Powerbands or virtually any fitness accessory. Hit the entire body, or choose to target specific muscles in different regimens.
With many workout options, exercisers are more likely to be adherent, and a virtually endless supply of routines and exercises comes in the form of periodic free app updates. No two workouts ever have to be the same with CROSS CiRCUIT, which makes it simple to integrate valuable strength training.