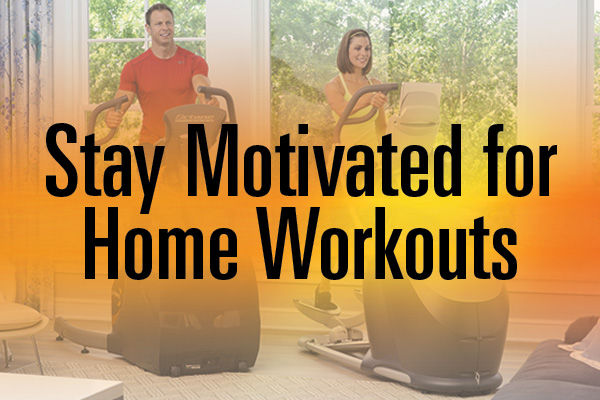 Whether you work out at home, at a health club or outside, staying motivated to exercise sometimes can be a challenge, even for dedicated individuals. Life's many responsibilities, unexpected problems, illness, fatigue and even weather can derail a workout plan – even convenient home workouts.
It may be easier to skip the gym because it requires more commitment just to get there – whereas home workouts by nature are very convenient. Still, sometimes a trip to the basement to exercise seems too far. If you find yourself inconsistent with your home workouts, here are some tips to keep you moving.
Tips for Home Workouts
SCHEDULE HOME WORKOUTS – Don't just expect to fit in three sessions a week; choose days and times and block these out on your calendar to promote adherence
INVEST IN YOUR HOME GYM – You don't necessarily need to spend a ton of money, but having quality equipment such as an elliptical or treadmill, along with some dumbbells and inexpensive accessories like a mat, stability ball and resistance bands, goes a long way in getting you – and keeping you – fit
INCORPORATE VARIETY – It's fine to have your favorite workouts, but doing the same thing all the time can lead to boredom and burnout. Try workout DVDs or a fitness TV show, search the Internet or fitness magazines for new programs, experiment with different pre-programmed workouts on your cardio equipment or hire a personal trainer for a few sessions to create different regimens. Or take a fitness class and integrate what you learn into your home workouts.
USE DISTRACTIONS – If you're struggling to get going, make a new playlist that you can listen to while exercising, or check out books on tape to multitask while sweating. Watch movies or record your favorite shows and catch up during workouts.
VARY TIME PERIODS – Working out at the same time daily is a great way to stay on track. But you don't have to commit to an hour, for example, each workout. You can mix up duration by integrating some 30- or 45-minute sessions are easier to commit to and can boost adherence.
BEAUTIFY YOUR WORKOUT AREA – Naturally, exercising in a dark, dank basement may kill your motivation. When possible, keep your workout equipment in an open area with natural light and a window, a fan if necessary and a TV or stereo for entertainment. Add a plant or some inspirational posters, and store everything conveniently in one area so you don't waste time looking for something you need.
GET OUTSIDE – Home workouts, by nature, don't necessarily have to be within the four walls of your dwelling. Fresh air and sunshine are great motivators, so take advantage of pleasant conditions with a walk, run, bike ride, inline skate session, yoga, tennis, basketball, volleyball or whatever physical activity you enjoy outdoors.
It's natural to lose exercise motivation from time to time but don't let it completely derail your home workouts. Use these tips to get back into a routine and Fuel Your Life!