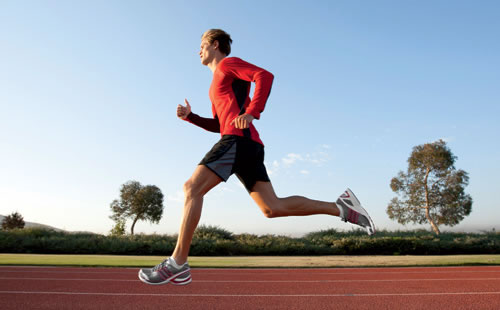 Jogging or running is a great way to get in shape, as it burns more calories than many other types of exercise, and aside from a pair of shoes, you don't need much in the way of gear.  Here are our tips for starting a running program. 
Despite being the most basic of exercises, running intimidates many. Often times people feel like they cannot compete with the Lycra-clad, GPS/heart rate monitor-wearing, skinny devotees pounding the pavement regularly. But running – or jogging – is available to everyone, and you don't have to be super fast (or decked out in the latest gear) to get moving.
If you've never run before, it's a good idea to put together a running program and start out gradually. A great way to begin is to alternate intervals of walking with jogging – maybe jog for one minute and then walk for one minute – for the entire workout duration. As you get stronger, you'll increase the time that you jog and decrease the amount of time that you walk. Typically, with consistent practice, people are able to transition to running the entire workout within a few months.
Cross training is important so that you don't burn out or risk overuse injuries, which can be common in runners. The elliptical delivers a total-body motion similar to running, but it is low-impact, and therefore is much kinder to the bones and joints. With adjustable stride ellipticals, you can change your stride length to match your pace and replicate a real running feel without the pounding.
Plus, regular sessions on the elliptical can build upper body and core strength as well for greater running form. And increased endurance helps runners power through those last few miles despite fatigue, wind or whatever challenge.
For variety, runners can try the multiple programs on ellipticals, such as interactive heart rate workouts and interval training to improve stamina. Octane's CROSS CiRCUIT program – the only one of its kind – combines cardio and strength training intervals in one workout for a total-body blast and superior conditioning.
If you want to start a running program, naturally you'll need to run. A lot. But cross training on an elliptical ultimately can help keep you running long into the future.