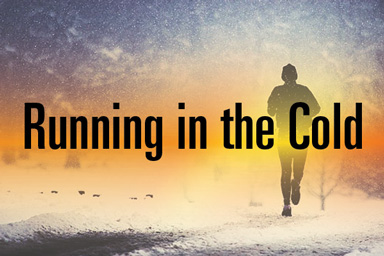 For those of us who live in areas of the country where cold temps seem to linger longer than what the calendar actually indicates, cabin fever can set in. One way to combat it is to take your exercise outdoors and going running in the cold.
When possible, running in the cold is a great way to relieve stress, expend pent-up energy and boost your mood. Despite the cold, fresh air and new sights are invigorating, and beat the monotony of a treadmill or indoor track.
However, running in the cold has some special considerations for safety and comfort, and it's important to know when it might be better to simply stay indoors. If the air temperature drops much below zero, or the wind chill hits minus 20 or more, it's recommended that you keep your workout inside.
And when you're going to be outside, be aware of two common cold weather health conditions:
Hypothermia – With hypothermia, your body temperature drops to 95 degrees F or below, which can be fatal. Symptoms include feeling cold, shivering, becoming confused and sleepy and slurring your speech. If hypothermia is suspected, seek medical attention.
Frostbite – Frostbite can cause a loss of feeling and color in affected areas, such as the nose, ears, cheeks, chin, fingers, or toes; can permanently damage body tissue, and can lead to amputation in severe cases. Signs of frostbite include reduced blood flow to hands and feet, numbness, tingling or stinging, aching, and bluish or pale skin. To treat frostbite, get into a heated room immediately and immerse the affected area in warm water.
Proper preparation and attention to safety can minimize your risk of these health conditions.
Follow these practical tips for running in the cold:
Layer your clothing –  Wear a dri-fit shirt that wicks away moisture as your base layer. Avoid cotton, which absorbs moisture and doesn't insulate. If it is very cold, add a mid-layer such as a turtleneck in a polyester or spandex blend, or fleece. Top it off with a weather-resistant jacket with a hood, or wear a windproof, breathable and vent-able shell to manage heat loss. Gore-Tex and nylon are good top layer materials. One rule of thumb is to dress as if it's 10-20 degrees warmer so that you don't overdress and end up sweating so much that you get chilled.
Don running tights – When it is below 40 degrees F, you can end up with windburn and chapped skin on any exposed area, so cover your legs fully. When it is very cold and windy, add wind pants over your tights.
Alter your footwear – Wool socks can greatly enhance your comfort during cold weather runs, or wear two pairs of polypropylene socks. Consider using shoes with greater traction and water resistance.
Cover exposed areas – This means gloves or mittens (sometimes two pairs), a hat and a scarf, muffler or face mask to keep your neck warm. On very cold days, cover your mouth and nose to warm the air as you breathe.
Watch your step – It may seem obvious, but choose plowed pavement if possible to reduce the chance of falls. Look for black ice or ice patches under snow. Don't aim for speed here; shorten your stride, slow down and be careful.
Take care of your skin – Use a sweat-resistant sport moisturizer and lip balm for extra protection. Apply petroleum jelly to any spots prone to chafing or chapping, and to help prevent frostbite.
Get out of wet clothes – When you finish your run, get someplace warm and change out of your wet clothes immediately. Rehydrate with water or a sports drink right away as well.
Whether you're regularly running in the cold or going out for the occasional jog, be sure to stay warm!