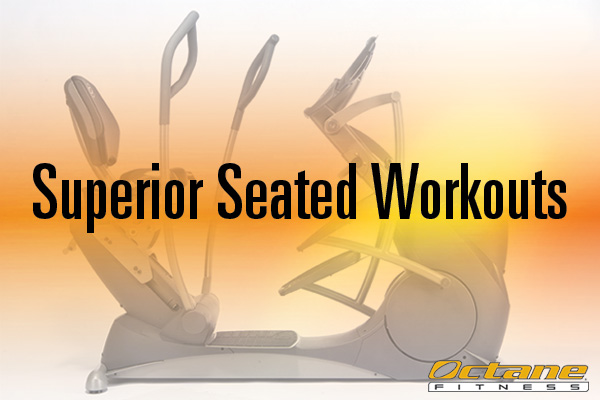 Stationary bikes are typically the first thing that comes to mind when thinking of seated exercise; especially seated cardio. However, there is a better, more effective seated workout option available.
Stationary bikes, both upright and recumbent, are mainstays of practically every health club in the world, as they are historically intuitive to use and able to accommodate every size exerciser at various fitness levels. And while stationary bikes are a great way to perform cardiovascular exercise, now there is a comparable – but even better – modality.
Have you seen the recumbent elliptical? Although it looks somewhat like a recumbent bike, Octane Fitness' xRide does so much more. It combines the benefits of standing elliptical workouts with the comfort of a seat. And it works the upper and lower body simultaneously, unlike any stationary bike.
In fact, university research shows that xRide users have 343% more glute activity and burn 23% more calories than recumbent bike riders. That's a pretty big deal.
It's Octane's exclusive PowerStroke technology that creates a longer pedal motion for more muscle engagement – going forward or in reverse. Plus, on the xRide, users can take advantage of the patented MultiGrip handlebars to activate their upper body and maximize comfort. The Active Seat Position also increases comfort with multiple height and tilt adjustments that open the torso on any size exerciser.
With Octane's Workout Boosters, like X-Mode, Chest Press and Leg Press, exercisers can take advantage of interval training and targeted muscle endurance regimens. And now, Octane's free SmartLink app, which connects to and controls the elliptical from an iPad®, users can get customized workouts targeted specifically toward their goals, including Lose Weight, Feel Better, Get Stronger and Athletic Performance.
Stationary bikes are a predictable way to exercise. Why not enliven your routine – and your results – with an xRide?