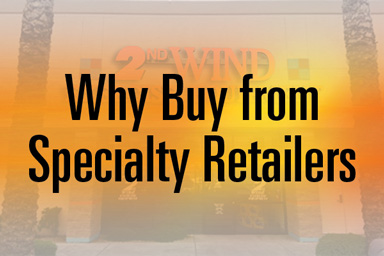 Having fitness equipment at home, such as an elliptical machine or treadmill, makes it convenient and easy to stay on track with your workouts, so you can enjoy better results. If you're in the market for fitness equipment, you'll face many options concerning what to buy and where to purchase.
When you are investing in your health over a lifetime, carefully consider your budget. With fitness equipment, you definitely get what you pay for, so don't skimp, as a cheap machine won't feel good and is likely to break down early. Don't get swayed by value prices, or you may be disappointed when your machine malfunctions and you can't use it anymore. Spend as much as you can for a product that you will benefit from for years.
Equipment can be purchased from sporting goods stores, some warehouse clubs, some department stores, online and specialty fitness retailers. The quality of the machines, the price points and the selection all differ in each venue, which ultimately impact your choice. Feel free to browse each venue and before making any decisions about what to buy. Make notes about features and pricing if you find a product/s that you like.
Note the following about each shopping option:
Sporting goods stores sell a wide variety of equipment in addition to fitness products. They generally don't sell higher priced or premium items, and stock can be limited. Furthermore, staff generally has limited training and may not be able to knowledgeably describe features or recommend specific units. Financing, delivery, installation and service options vary among stores.
Warehouse clubs typically only have one model of a machine for a limited time, with limited stock. They also tend to floor lower price points. With warehouse clubs, you must be a member to purchase, you must tote the product home by yourself and then assemble it. Ongoing service is limited, if available at all.
Department stores sell a variety of items, and fitness is just another section like furniture, bedding and shoes. Based on the store's demographic, fitness equipment is lower-end and affordable. Staff can have high turnover and limited training, and financing, installation and service vary by store.
Online offers endless variety and an ability to easily compare products, whether you purchase from a fitness store or directly from the manufacturer. While prices may be competitive, you cannot physically test-drive the product, which is a huge disadvantage when it comes to fitness equipment. Also, you have to pay for shipping and assemble the product yourself, which can be expensive and time-consuming. Furthermore, returning a product can be a huge hassle and expense. Financing and service options vary as well.
Specialty fitness retailers offer the most variety, the best quality exercise equipment and a customized experience. They have highly trained, knowledgeable staff that can provide specific recommendations and demo various features that correspond to your goals. Some retailers employ personal trainers who can show you how to use the machine and design a personalized fitness program.
Make sure you go to the store in your workout apparel so you can hop on a few machines and get a feel for them. You'll find that units like elliptical machines vary significantly in terms of their feel and features, so find something that you prefer. And ask the retailer about special promotions or deals to get the best package.
In addition, you benefit from product delivery and assembly, financing and certified maintenance and service plans. Plus, it's simple to contact the retailer should it be necessary after your purchase. And you support your local business community.