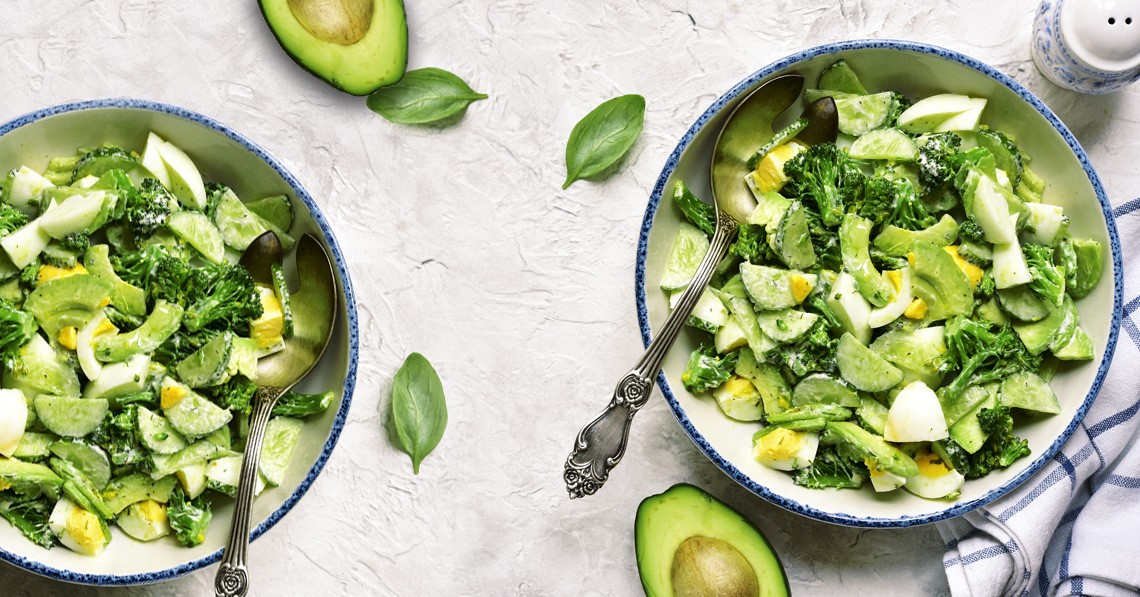 If you're still working from home (WFH), it can be easy to resort to the same old standbys for lunch. Without the variety and temptation of eateries near your office, it takes more effort and creativity to make this midday meal interesting.
Don't be tempted to skip lunch. This is an important workday break, especially when WFH, that refreshes your body and mind. To inspire you, try some of these quick lunch ideas that are healthy and easy to whip up at home.
Quick Lunch Ideas
3 tbsp. mayonnaise
2 tsp. lemon juice
1 tbsp. finely chopped chives
Freshly ground black pepper
Kosher salt
6 hard boiled eggs, peeled and chopped
1 avocado, cubed
Lettuce, for serving
Cooked bacon, for serving
In a medium bowl, whisk together mayonnaise, lemon juice and chives. Season with salt and pepper. Add eggs and avocado and toss gently to combine.
Serve with lettuce and bacon.
3 cups fresh baby spinach
1/2 cup sliced fresh strawberries
1/4 cup honey-roasted sliced almonds
1 tablespoon cider vinegar
1 tablespoon honey
1-1/2 teaspoons sugar
Place spinach, strawberries and almonds in a large bowl. Mix vinegar, honey and sugar until blended; toss with salad.
2 tablespoons mayonnaise
4 teaspoons prepared pesto
8 slices sourdough bread
8 ounces thinly sliced deli ham
1/2 cup loosely packed basil leaves
4 pickled sweet cherry peppers, chopped
1 plum tomato, thinly sliced
3/4 cup shredded provolone cheese
2 tablespoons butter, softened
In a small bowl, mix mayonnaise and pesto; spread over 4 slices of bread. Layer with ham, basil, peppers, tomato and cheese. Top with remaining bread. Spread outsides of sandwiches with butter.
Using cast-iron skillet or electric griddle, toast sandwiches over medium heat until golden brown and cheese is melted, 2-3 minutes on each side.
Spicy Crunchy Tuna Wraps (TasteofHome.com)
4 pouches (2.6 ounces each) sweet and spicy chunk light tuna
1-1/2 cups coleslaw mix
1/3 cup chopped salted peanuts
1 tablespoon rice vinegar
1/4 teaspoon crushed red pepper flakes
1/8 teaspoon pepper
12 Bibb or Boston lettuce leaves (about 1 medium)
Reduced-sodium soy sauce
In small bowl, combine first six ingredients; toss lightly to combine. Serve in lettuce leaves with soy sauce.
Per quesadilla:
1 whole-grain flour tortilla (about 8″ diameter)
½ cup freshly grated cheddar cheese
¼ cup cooked black beans or pinto beans, rinsed and drained
1 tablespoon chopped red bell pepper or jarred roasted bell pepper or a few thinly sliced cherry tomatoes
1 tablespoon chopped red onion or green onion
1 tablespoon chopped pickled jalapeño
1 teaspoon avocado oil, melted butter or extra-virgin olive oil
Any of the following, for serving: Salsa, pico de gallo, guacamole or strips of avocado, sour cream, hot sauce, chopped fresh cilantro…
Heat skillet over medium heat. Warm tortilla for about 30 seconds, flipping halfway. Flip once more, then sprinkle one-half of the tortilla with about half of the cheese. Cover cheese evenly with remaining fillings: beans, bell pepper, onion and jalapeño.
Sprinkle remaining cheese over fillings, and fold over the empty side of tortilla. Brush top of quesadilla with a light coating of oil, then carefully flip it.
Let quesadilla cook until golden and crispy on the bottom, about 1 to 2 minutes, reducing the heat to prevent burning. Brush top with a light coating of oil, then flip it and cook until second side is golden and crispy.
Immediately transfer the quesadilla to a cutting board. Let it cool for a minute to give the cheese time to set, then serve promptly, with sauces or garnishes.