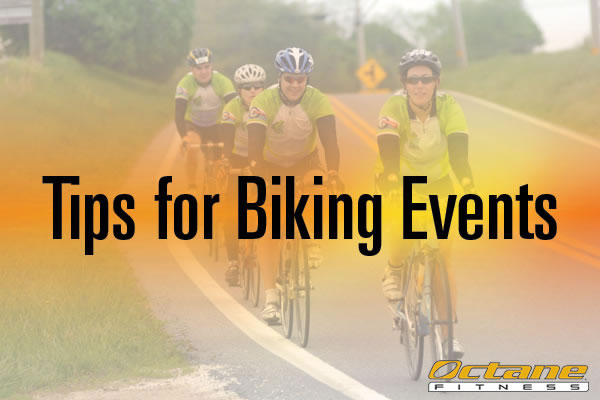 Whether part of triathlon or a community fun ride, these must have tips from Performance Bike will help you successfully complete any biking event.
After running, biking comes in as the second most popular cardiovascular exercise around the Octane Fitness office. Many of the staff bike to work throughout the summer and even more participate in triathlons and biking events. During a recent discussion about biking tips for a coworker's upcoming biking event, a reference was made to a post from the Performance Bike blog.
The blog post was suggested because it offered a handful of "must have" tips for every level of biking event. So what tips does Performance Bike recommend for successfully tackling a bike event?
Choose your event – be sure to pick one that meets your fitness and experience level.
Train up – prepare for your event by riding several times a week. If you haven't ridden with a group of people before, be sure to train with a group before your event.
Tune it up – this doesn't just apply to your bike; as your training pay attention to how your body feels on the bike and invest in new riding shorts or chamois cream. Of course, make sure your bike is in good riding condition as well and take it in to your local bike shop for a tune up if needed.
Gear up – make sure you have repair tools, clothing and accessories to be successful on your ride.
Set yourself up for success – the night before your event is key to having a good ride the day of your event; eat a good dinner, hydrate and get enough sleep.
Recovery – pack a recovery bag to bring with for after the event. Include items like extra water, healthy snacks, flip flops and dry clothes.
Read the full Performance Bike blog post for more details and tips.