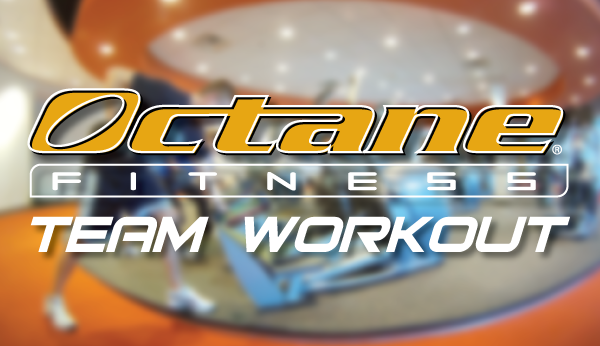 At times we let life's struggles bring us down and get in the way of enjoying the things we love. The best solution may be sweating your way out of a rut with this week's Core Strength interval training workout.
A motivational note from Octane Fitness team member and certified group fitness leader:
Life was never meant to be a struggle – but sometimes it seems that way. If you don't catch yourself it's easy to slide into a really unhappy place, and if you leave it long enough this can lead to darkness and self-doubt. Life is full of problems – get over it. Good enough is not good enough. Not for you. Not now. You may have come to expect that your problems are status quo. There are new chances available to you that could help you make things much better. Make sure you aren't so complacent that you fail to spot your options. Look at your problems as problems and they will hold you down. See them as blessings in disguise and that's what they'll become.
So, how can you deal with some of these "blessings"? I have the perfect solution. Why not take some of that bottled up frustration and try one of our team interval training workouts. You'll soon forget what ails you. You might even find yourself a little more refreshed and ready to take on more! A little butt kicking we'll do and you won't regret it one bit!
-Kelly
Octane Fitness Team Workout – 8/11
Download a PDF of our interval training workout.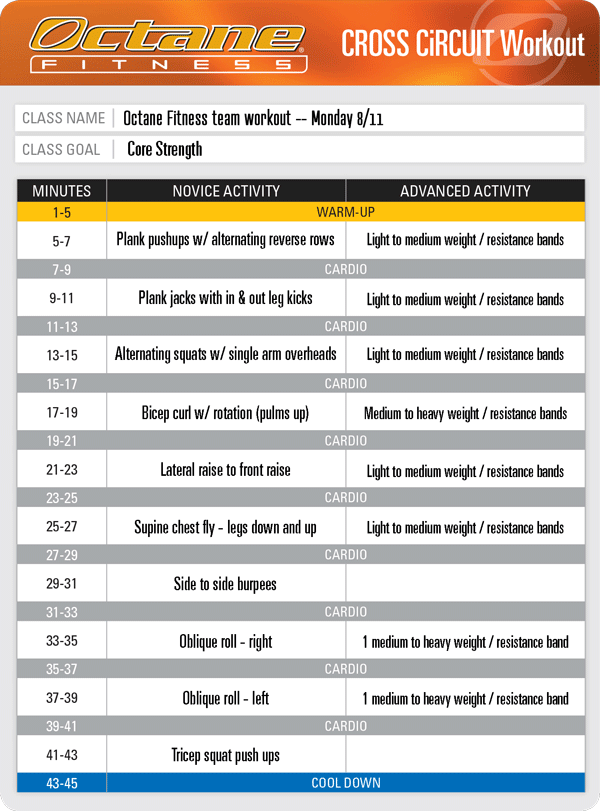 Exercise Tips
Helpful descriptions of some of the more difficult or lesser-known exercises listed above.
Plank Jack with In and Out Leg Kicks – Hold plank form and do a floor jack, move legs out and in, as you hold the plank. After completing one floor jack, hop knees in toward chest and back out while still maintaining your plank form. Repeat for duration of circuit.
Supine Chest Fly – Lay flat on your back with legs out straight in front of you and move weights / resistance bands from sides in fly motion until they are over your head. Raise legs and then simultaneously lower legs and arms to complete chest fly with leg raises.
Tricep Squat Pushup – This is a signature move from Insanity workouts. Lower into a squat and hold. Put your hands up and lean forward to bring hands down to floor for a pushup, remaining on the balls of your toes, then push yourself back up. See how to do one.