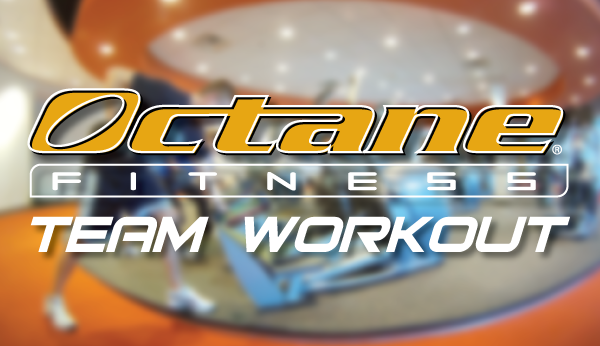 Left side. Strong side! Right side. Strong side! This week's Unilateral Movement interval training workout features exercises focused on each limb working independently of each other. Download now and get Fueled.
A motivational note from Octane Fitness team member and certified group fitness leader:
If at first you don't succeed…you're running about average. Do you feel like maybe you are in a slump with your fitness goals or interval training? Do you feel unsuccessful? That's normal. So, try again. Don't give up though. You might think of yourself as a failure but you are not. Success doesn't just happen. It can take several tries before you even begin to make some progress. Do you think this doesn't happen to anyone else? How about knowing that this happens to everyone else! Yes we all have been through it. We all have hit some type of roadblock, and some people give up, but some keep trudging along.
Which one will you choose? Give up or keep going? I say keep going. Use this CROSS CiRCUIT interval training workout to refuel your drive. Remember, success only happens when you make it happen!
-Kelly
Octane Fitness Team Workout – 5/12
Download a PDF of our interval training workout.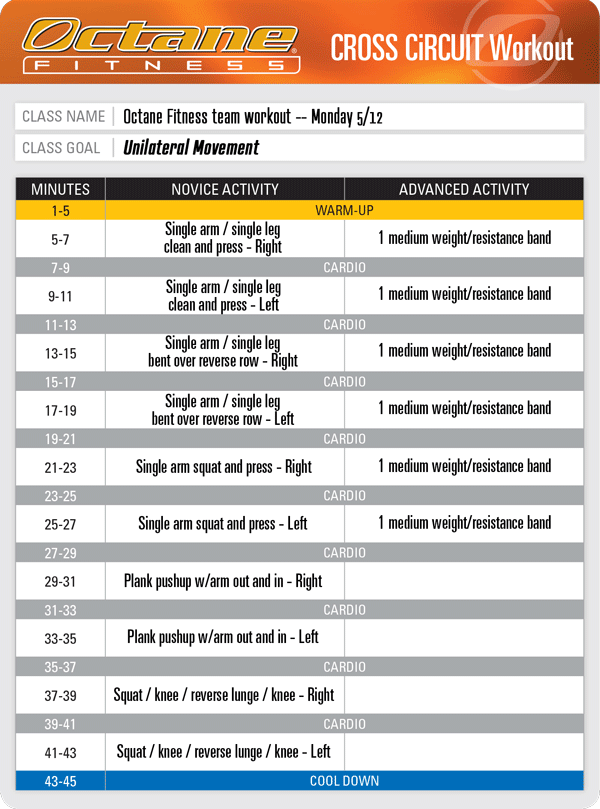 Exercise Tips
Helpful descriptions of some of the more difficult or lesser-known exercises listed above.
Single Arm / Single Leg Clean and Press – Watch this brief video tutorial to see how to do a single arm clean and press. Then perform while standing on single leg and do just one arm (either right or left, same as the leg on which you're standing) for duration of interval.
Single Arm Squat and Press – Start standing straight up with weight resting against shoulder in one hand. Squat down so thighs are parallel to floor. Then squat up and press weight up at same time. Be sure to keep head up and back straight at all times.
Plank Pushup with Arm Out and In – Start in a plank position, hands together in a narrow plank. Extend Right arm out, push up, bring hand back to a plank. Out-pushup-in, repeat.
Squat / Knee / Reverse Lunge / Knee – Lower into single leg squat, as you come out of squat put opposite leg down and bring squat leg up in high knee. Lower leg down into reverse lunge. When coming out of reverse lunge, shift weight to opposite leg and bring leg up into high knee again. Repeat for duration of the interval.