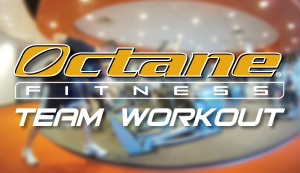 Infuse your cardio with strength exercises with our CROSS CiRCUIT interval training workout of the week. With warm weather just around the corner, this week's Core Strength team workout will help get you ready for swim suit season!
A motivational note from Octane Fitness team member and certified group fitness leader:
This week our motto is "I am strong. I can do this." Live it, breathe it. Don't talk defeat like "I will never lose weight!" or "I will never be able to do 30 push-ups!" or even "This exercise is too difficult!" All that does is drain you and leave you feeling overwhelmed. When you talk negative talk your strength is leaving. Energy is leaving. Will power is leaving.  Believe that no matter what comes your way, you can handle it. Remember that each day brings a chance to do better, to be better, to do it right. It's your chance to change failure into winning.
So set your own course, prepare your vessel, travel with your own speed and set out to make the best of this day and week! Start your week off strong with our interval training team workout and don't look back. Keep focused, believe in yourself and Stay Fueled.
-Kelly
Octane Fitness Team Workout – 03/17
Download a PDF of our interval training workout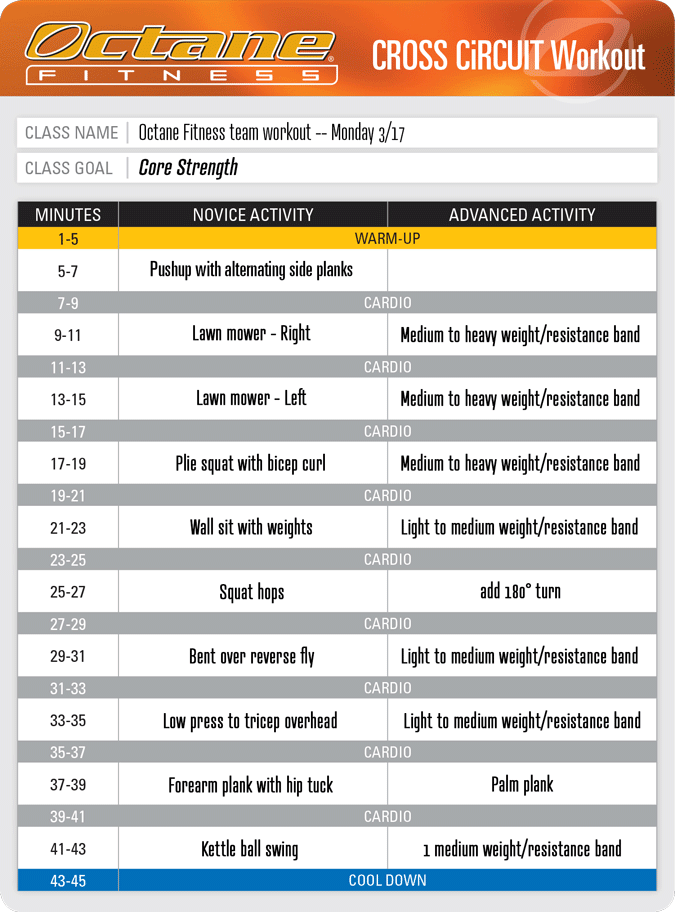 Exercise Tips
Helpful descriptions of some of the more difficult or lesser-known exercises listed above.
Plie Squat with Bicep Curl – 

Stand with your feet slightly wider than shoulder width apart. Turn your toes out and heels in. Grasp a pair of dumbbells, keeping your arms straight, with your hands resting in front of your thighs and palms facing out. 

Bend your knees out to the sides as you drop your tailbone and squat down. At the same time, curl your hands toward your upper arms. 

Forearm Plank with Hip Tuck – Brief tutorial video below. Increase difficulty by performing the plank on your palms rather than forearms.