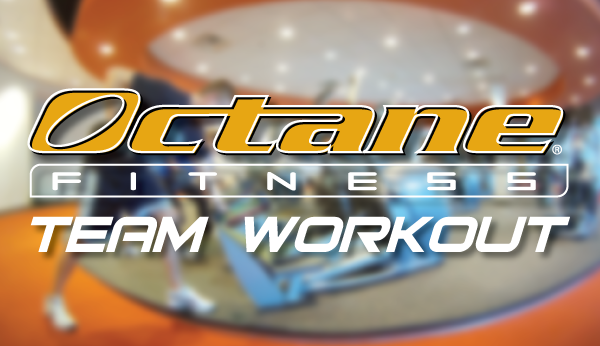 Weight lifting is an integral component of staying fit. Especially if you want a trim and lean physique!
 So mix some strength into your cardio with this week's interval training workout.
A motivational note from Octane Fitness team member and certified group fitness leader:
If you've ever wanted to lose weight or get in shape, you've probably had that "I should go for a run" moment. That's great; love the enthusiasm and yes cardio is definitely a great fat burner. But guess what? You need to get some strength training in as well. Why you ask? Lifting weights regularly promotes the growth of lean muscle mass, which is an integral part of any fat loss journey. Put simply, muscle helps activate a healthier metabolism because the more muscle your body has, the more calories it will burn at rest.
In addition to increasing metabolism, lifting weights promotes natural growth hormone production, which in turn helps reduce insulin sensitivity. Essentially, lifting weights will help turn your body into a fat loss machine—making the weight room one of the most important stops on your fitness journey. It's good to get your cardio in there, but do not eliminate strength training. Did I mention that your body will also look more toned? Just saying. So as you venture between cardio and strength, why not do an interval training CROSS CiRCUIT workout? Combine cardio and strength endurance with a circuit workout, and get the best of both worlds.
-Kelly
Octane Fitness Team Workout – 11/17
Download a PDF of our interval training workout.