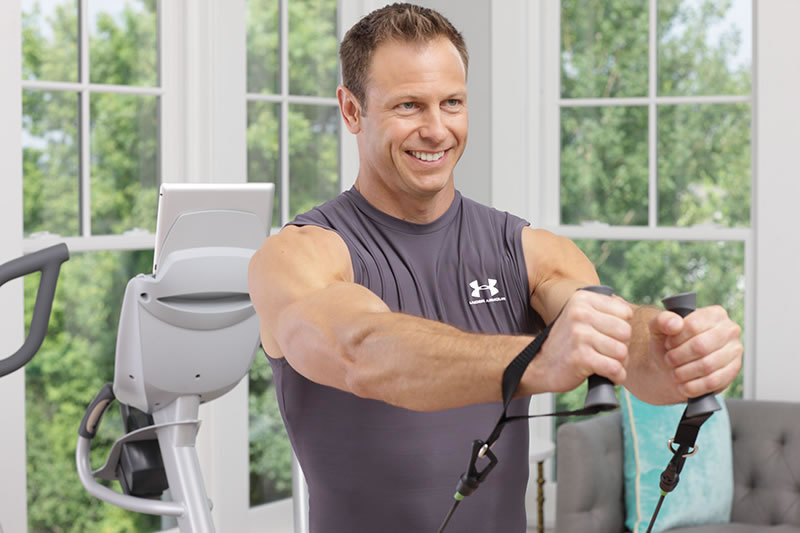 Most people think of a home gym as bulky, old steel contraptions that sit unused, collecting dust in a dark corner of the basement. But home gyms have come a long way, and many now are sleek functional units with cables, pulleys and streamlined weight stacks.
But home gyms traditionally have been limited to strength training, which is definitely valuable, but leaves exercisers needing another modality to get in cardio activity to have a well-balanced, effective fitness program. And that can create a problem if they don't have space to house both a home gym and a cardio machine, or if having two pieces of equipment isn't within their budget.
Good news! Octane Fitness ellipticals equipped with CROSS CiRCUIT give exercisers cardio workouts combined with strength training, so there's no need for a separate home gym. This unique program alternates cardio intervals on the elliptical with strength training exercises on the floor, adjacent to the machine.
In addition to needing only an elliptical and a pair of dumbbells or Octane's Powerbands, exercisers benefit from:
Compact elliptical footprint with low-step up height fits in tight spaces or those with low ceilings

Combined cardio and strength intervals have been proven to be superior for building endurance, improving strength and increasing metabolism

Twice the workout in half the time with rigorous CROSS CiRCUIT intervals offers greater efficiency, effectiveness and results

Ability to customize workouts with specific exercises for trouble spots, target areas and personal goals

Endless variety of exercises with various accessories, Octane DVDs and new workouts

Versatility inspires more motivation and better adherence
Why buy a home gym that can only do one thing, when you can get an Octane elliptical with CROSS CiRCUIT that delivers so much more?