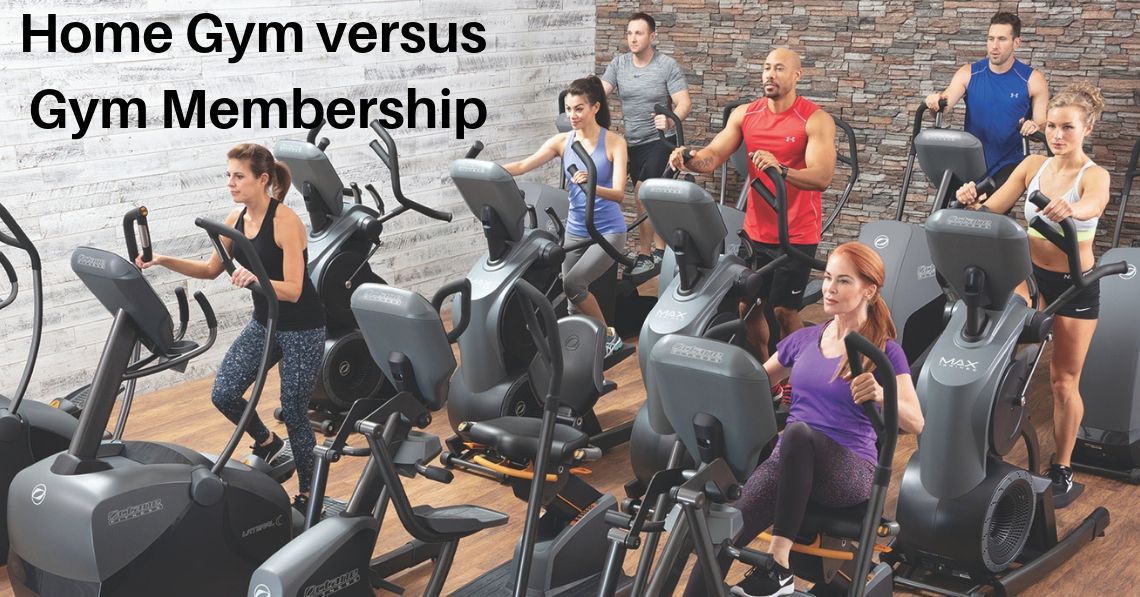 When it comes to exercise, everyone wants to know the best workouts. Which are the most effective exercises, what is the ideal intensity, how can you maximize your efficiency? It's all about getting the most return on your investment, and in today's instant gratification world, most of us want to get fit fast and stay fit without long, grueling workouts.
Along these lines, people ask if it's better to have a home gym versus a gym membership. Each option has multiple advantages and disadvantages, but ultimately, one is not inherently superior if you commit yourself to exercising in either environment. Today, there is more variety than ever in terms of streaming workouts, fitness apps with training programs, exercise equipment, clubs and specialty studios.
All you have to do is try different exercise options and determine which works best for you. And you may change your workout location during specific seasons of your life. For instance, if you have a newborn, a home gym may be most practical. Or if your job is next door to a health club, it may be easiest to exercise there before or after work.
The following is an overview of the pros and cons of a home gym versus a gym membership. Consider each, and try both options for a week or two before deciding. Of course, you also can have the best of both worlds by maintaining a home gym and a gym membership. Just get moving. No excuses!
Home Gym versus Gym Membership
Home Gym
Pros
Ultimate convenience – It doesn't get any easier than working out in your house, where the farthest you may have to go is down or up some stairs. No need to dress to impress, either – just wear what you like. And home gyms are fabulous for early morning workouts, where you can simply roll out of bed, or for evening sessions, where you can fall into bed quickly.
Multitasking allowed – Throw in a load of laundry or put a casserole in the oven before your routine if necessary. Catch up on Netflix or your DVR backlog with your spouse while burning calories. Listen to an audio book or blast your favorite tunes.
Solitude and privacy – If you're an introvert, or simply want some alone time, working out in your home gym is ideal. No need to wait for a machine, deal with external noise or feel self-conscious while being surrounded by eyeballs.
Inexpensive – You decide how much you invest in your home gym, from a jump rope and resistance bands to cardio equipment and multi-station strength machines.
Cons
Limited options – Unless you have unlimited space, along with a large budget, your home gym doesn't offer all the variety that you'll find in a health club, such as a track, pool, plate-loaded machines, classes and more.
Strong self-discipline required – You might think it would be simple to hit your home gym regularly since it's so conveniently located. But you still have to motivate yourself to get it done, especially in the face of constant distractions (kids, housecleaning, phone calls/texts, etc.).
Boredom – With the lack of variety, workouts in your home gym may get repetitive and routine, which can lead to boredom and a plateau in result. That makes you more tempted to skip sessions, especially if no one is keeping you accountable.
Lack of progress – Without continually changing your workouts or taking on new challenges, your progress can stagnate and you may slip into just-going-through-the-motions mode.
Cabin fever – If you work from home, and workout at home, you may feel a bit stir crazy at times, craving some fresh air, new scenery and social interaction.
Gym Membership
Pros
Variety – Health clubs are a great way to experience all the latest workouts, from classes to small group training to new cardio and strength equipment. Multiple, diverse offerings make it easy to vary your routine so that your body is challenged continually and your motivation stays high.
Opportunity to learn – Clubs enable you to learn about new ways to exercise with new accessories and formats, along with specialty skills like stand-up paddle boarding, tennis, ballroom dancing, pickleball and more, depending on the extent of your gym's offerings.
Social – Being surrounded by other people who are exercising is motivational and can keep you on track. Attending classes, participating in small group training and going to special events provides camaraderie and connection, which is important for mental health.
Progress – At the health club, you can take part in fitness challenges, work with a trainer or participate in increasingly more difficult classes in order to drive results so that you can meet your goals. When someone else is leading the program, it makes it easier for you to focus on simply doing what you are told, rather than having to design your own regimen.
Extra amenities – Some clubs offer other perks that can keep you coming back, like a dietitian; educational lectures; massage and spa services; saunas, steam rooms and whirlpools; cafes; childcare and more.
Cons
Cost – Not all health clubs have expensive membership fees, but they all have a cost, both in terms of money and time to get to and from the facility. Plus, some clubs have base fees and then additional costs for special programs and events, which can add up. If you don't use the club very often, it can feel like you are wasting money.
Planning – While you may be able to simply pop into the gym on a whim, typically you have to designate a time (within operating hours) to visit, change your clothes or pack a bag, get your water bottle, find your ear buds and potentially include toiletries and a change of clothes if you are showering after your workout. Nothing like forgetting your gym shoes or missing one sock to derail your best laid plans for a productive sweat session.
Lack of privacy – In the gym, you're surrounded by people, even if you're wearing ear buds and avoiding eye contact. Although most of us are focused on ourselves during exercise, lots of people-watching goes on in health clubs as well. If you're shy or uncomfortable with the reality that others can see you exercising, or changing in the locker room, you may tend to find reasons to skip your trips to the gym.
Potential inconveniences – Sometimes, going to the fitness center can be a hassle, from searching for a place to park, to squeezing into a crowded locker room or class, to waiting for your favorite machine, to tolerating loud music or to just dealing with other people's sweat, noises and odors (it happens!). Or you race to your favorite class and it's unexpectedly cancelled, or your go-to machine is broken or the pool is temporarily closed.
Germs – Let's face it, for germophobes, the gym can be a nightmare, from everything to the cardio equipment to dumbbells to mats and more. People sweat and don't always clean their equipment, and personal hygiene and immune systems vary.
Whatever you choose, the most important thing is that you exercise regularly – either at home or in the gym. It comes down to personal preference.