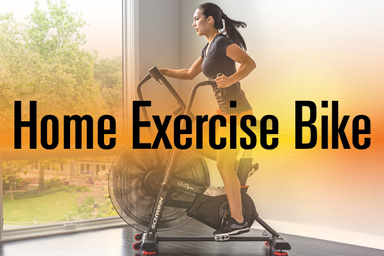 Sometimes the home exercise bike can get a bum rap, with people envisioning leisurely pedaling while watching TV or flipping through a magazine. Being seated – particularly on a recumbent bike – may seem to encourage some to go easier, surf the web or read a book while riding. With today's elliptical machines, treadmills and total-body trainers, the stationary bike appears to have taken a back seat when it comes to cardio options.
However, not all stationary bikes are the same, and some models, such as the classic Schwinn Airdyne, are used in CrossFit boxes around the country to maximize cardio intensity for an admittedly intense and exceptionally fit group. This same bike can pack a punch for home workouts as well, provided you stay focused on maintaining intensity and pushing your limits.
The beauty of the legendary Airdyne is that it is simple to use with natural motion, and it's low-impact, so that anyone can ride it without any jarring to the joints. Plus, it is economical and incredibly durable, so it becomes a lifetime workout partner.
This classic workhorse was recently refined to deliver even more effective, efficient workouts at home – for greater convenience, comfort and results.
Designed for Performance
Everything about the Airdyne Pro has been tweaked for exceptional workouts, year after year.
26-blade performance fan – Exclusive to the Airdyne, this robust fan combines with a responsive, single-stage belt drive that leverages all your power to generate resistance. Other bikes with chain drives use two-power transfer systems so energy must transfer from one chain to the other, and power is lost/wasted in the process.
Unlimited wind resistance – With the Airdyne, you are in total control of your intensity level with unlimited wind resistance. Simple push harder for greater resistance, and slow down for lighter intensity. A unique inertia drive provides smooth motion and safe, quick transitions from sprints to stops.
Greater calorie burn – Research shows that exercisers burn more calories on the Airdyne Pro bike compared to a leading competitor fan bike at the same RPM. The custom-designed performance fan enables you to generate more watt power efficiently.
Calibration technology – For those who love data, you can calibrate the Airdyne before every workout to get the most accurate feedback. Measuring your power output is affected by atmospheric conditions like temperature, altitude and humidity, and calibration correctly takes these into account.
Customized comfort – With nearly limitless fore/aft seat adjustments and an oversized, cushioned saddle, the Airdyne also features a universal rail and clamp system so you can remove the seat and use your own, if preferred.
Knockout Workouts
Get the results you are after in minimum time:
Total-body training – With the Airdyne, you benefit from working your entire body, which leads to greater caloric expenditure than a standard upright or recumbent bike.
High-intensity interval training – HIIT training is one of the best ways to burn calories both during and after workouts, as it elevates your metabolism. The Airdyne features 20/10 intervals modeled after the popular Tabata format, 30/90 intervals or custom interval routines.
Upper-body emphasis – Periodically isolate the upper body by placing your feet on the stationary foot pegs and driving all your energy into the MultiGrip handlebars, which offer horizontal and vertical hand placement options to target different muscles.
Low–impact cardio – Enjoy steady-state conditioning also with a consistent pace and intensity level throughout.
Stats at your fingertips – The digital display delivers your performance in heart rate, RPM, distance, watts and calories at the quick touch of a button.
Tachometer – This addictive visual displays how hard you are working and compels you to push even harder to bury the needle!