This month's dealer rep spotlight is Jeff Hahn from Northwest Fitness! Read what Jeff has to say about Octane home elliptical machines.
Jeff was kind enough to give us a few minutes of his time to share his thoughts on Octane Fitness, his favorite product and more.
What store are you based out of?
I'm a sales rep at Northwest Fitness in Portland, Oregon.
Why do you like selling Octane Fitness products?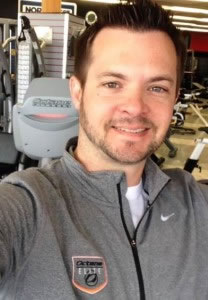 I like selling Octane Fitness ellipticals because Octane is the top of the line. The ellipticals are not only top quality and feel great, but they also offer all the options and programs to provide any user a great workout, regardless of their fitness level.
I also want to add a thank you to Octane for offering a great product for us to sell!
Do you have any tips for selling Octane products? 
My biggest tip is to have your customers try all the options. As they're trying products ask them quality questions to help narrow it down to the one that makes the most sense for them. Then once they get on an Octane elliptical, it's not hard to sell!
What's your favorite part of being Octane ELITE?
This may be an obvious answer, but I like getting ELITE presents in the mail every few months. I probably wear Octane gear 4-5 days a week. And, of course, the reward trips are tons of fun!
Thanks again to Jeff for taking time to speak with us. Stay Fueled!