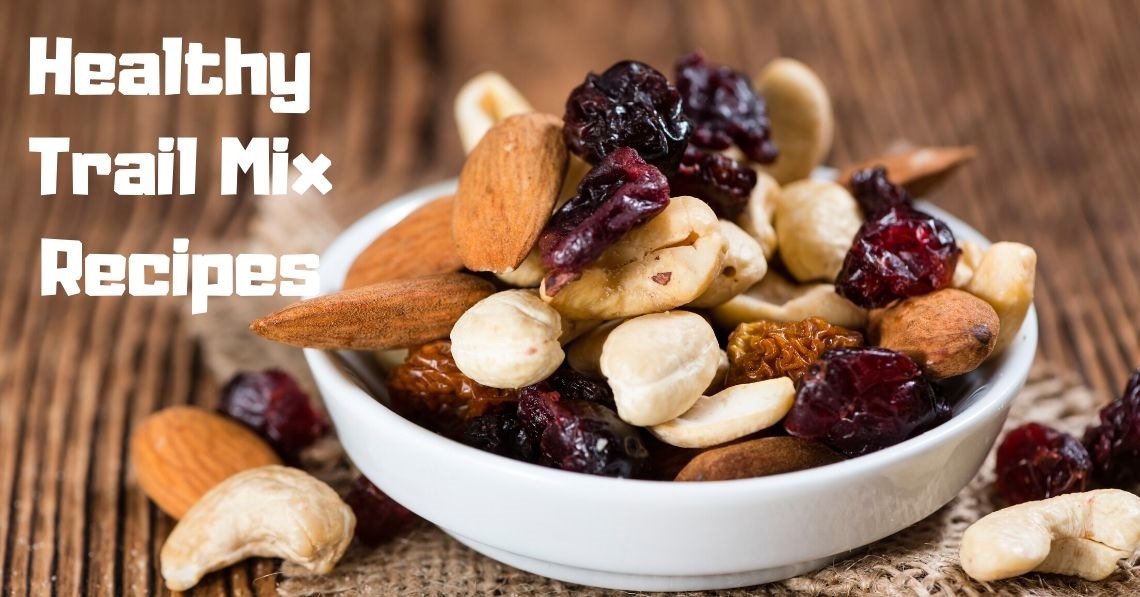 Trail mix is a tasty, filling snack that you can carry anywhere and enjoy anytime – and when it's loaded with nutritious ingredients like nuts and dried fruits, it provides a powerful energy boost that beats vending machine options. Plus, healthy trail mix recipes are simple to make – just toss everything in a bag and mix it up.
You can use your imagination to combine whatever you like from these common ingredients:
Nuts – Unsalted, unsweetened are your best bet here for healthy fats, protein, fiber, antioxidants and vitamins and minerals. Choose from almonds, pistachios, cashews, peanuts, and walnuts (higher-calorie macadamia nuts, hazelnuts, Brazil nuts, pecans, and pine nuts in moderation).
Seeds – Providing similar nutrients as nuts, try pumpkin, sunflower, sesame, flax and hemp seeds.
Dried fruit – These add flavor and vitamins, but limit quantities because they have lots of sugar: dried apples, cherries, cranberries, goji berries, blueberries, strawberries, apricots, raisins, banana chips, figs, pineapple chunks, mango and dates.
Grains – Add complex carbohydrates with shredded wheat cereal, pretzels, Cheerios or Chex, bran flakes, whole-wheat crackers, granola, toasted oats, puffed rice cereal and air-popped popcorn.
Sweets – Use small amounts of M&M's, chips (chocolate, peanut butter, carob and butterscotch), cacao nibs, yogurt-covered raisins, chocolate-covered coffee beans, mini marshmallows or chocolate-covered nuts.
Savory extras – Season with sea salt, curry, ground ginger, cinnamon, nutmeg, cardamom or cayenne pepper. Or mix in wasabi peas, coconut flakes, sesame sticks, dried ginger and coffee beans for more dramatic flavor.
To get you started, here are a bunch of healthy trail mix recipes from Greatist.com that may inspire new favorites.
Just be sure to limit how much you eat, because these mixes are calorie-dense and it's easy to indulge. We suggest that you parcel out single-serving portions in small Ziploc bags to reduce the temptation to overeat. Unless you're out hiking all day, completing an Ironman triathlon or running a marathon, you should stick to one-quarter of a cup as a serving size, which isn't much, so eat slowly and enjoy each bite.
Healthy Trail Mix Recipes
To keep things simple, these recipes do not include exact amounts of each ingredient, so feel free to toss more of your favorite items and a bit less of others, or incorporate each of them in equal amounts. Store in an airtight container to maintain freshness (and don't nibble right out of the container!).
Traditional GORP – Peanuts, raisins and, if you like, M&Ms
Peanut butter lover – Peanuts, almonds, banana chips and dark chocolate and peanut butter chips
Nutty – Almonds, cashews, peanuts, walnuts and raisins
Cereal and fruit – Bran flakes with shredded wheat cereal, puffed rice, granola, cashews, dried cherries, dried cranberries and dried blueberries
Savory seeds — Almonds, pumpkin seeds, sunflower seeds, garlic powder, onion powder, cayenne pepper, and salt
Coffee addicts – Hazelnuts, almonds, raisins, chocolate-covered coffee beans, and white chocolate chips
Puppy chow – Almonds, whole-grain Chex or wheat cereal, dark chocolate chips, peanut butter chips, cacao nibs, and dried cranberries
Fall flavors – Pecans, dried apples, maple granola, pumpkin seeds, nutmeg and cinnamon
Movie night — Popcorn, M&Ms and dried cherries
Tropical — Cashews, Brazil nuts, dried mango, coconut flakes, and banana chips
PB&J — Peanuts with dried strawberries, peanut butter chips and shredded wheat cereal
At the beach – Macadamia nuts, white chocolate chips, dried pineapple and coconut flakes
Salt and sweet – Almonds, dried cherries, dark chocolate chips, sea salt and cinnamon
Monkey munch – Banana chips, peanuts, sea salt, almonds, dark chocolate chips, raisins and coconut flakes
Cajun spice – Almonds, pecans, walnuts, sunflower seeds, pumpkin seeds, sea salt, garlic powder, chili powder, ground cumin and cayenne pepper