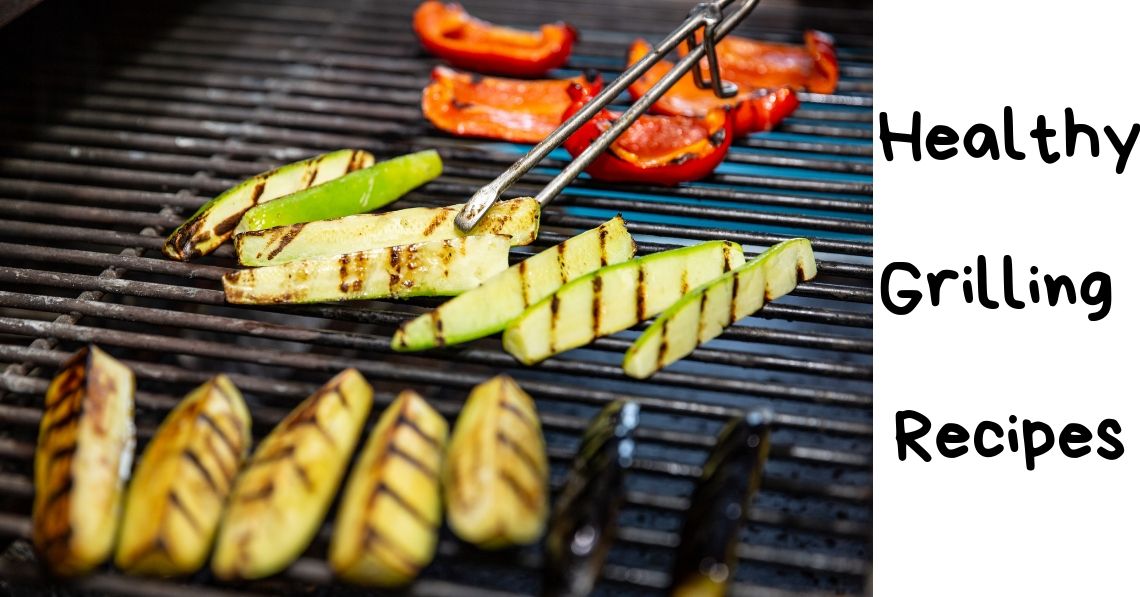 Summer is in full swing, and if you haven't fired up the grill yet, now is definitely the time! There's something special about cooking and eating outside, so take advantage of the nice weather and enjoy some healthy grilling recipes. And if you're not sure how to use a grill, don't worry! It's easy.  Just follow a quick tutorial online.
The old grill standbys – burgers, hot dogs, brats and chicken – are great for family meals or BBQs, but you can more creative on the grill, even with these favorites. We've done some homework for you here so you can try some new options – and delight in greater variety. While there are lots of choices out there, we tried to focus on easy, healthy grilling recipes. Make your grocery list and then get cooking!
Healthy Grilling Recipes
4 boneless skinless chicken breasts
2 c. grape tomatoes, halved
2 ears corn, kernels stripped
2 cloves garlic, thinly sliced
1/4 c. extra-virgin olive oil
2 tbsp. butter
Kosher salt
Freshly ground black pepper
Fresh basil, for garnish
Heat grill to high. Cut 4 sheets of foil about 12″ long. Top each piece of foil with a chicken breast, tomatoes, corn, and garlic. Drizzle each with oil and top with a pat of butter. Season with salt and pepper.
Fold foil packets crosswise over chicken and roll top and bottom edges to seal.
Grill until chicken is cooked through and vegetables are tender, 15 to 20 minutes.
Serve topped with basil. 4 servings.
1 lb. ground beef
1 tbsp. Worcestershire sauce
kosher salt
Freshly ground black pepper
8 pineapple rings
1 large red onion, sliced into rings
4 slices pepper jack
4 pieces romaine
8 slices cooked bacon
Heat grill to medium-high. In a large bowl, combine ground beef and Worcestershire and season with salt and pepper. Form into 4 patties.
Grill patties, pineapple, and red onion until charred, 3 minutes per side. Top burger patties with pepper jack and cover grill to let melt, 1 minute.
Top bottom pineapple buns with lettuce, burger patties, bacon, and grilled onions, then top with pineapple bun. 4 servings.
4 (6-oz.) salmon fillets
Kosher salt
Freshly ground black pepper
4 tbsp. butter
1/2 c. lime juice
1/4 c. honey
2 garlic cloves, minced
2 tbsp. chopped cilantro
Season salmon with salt and pepper. Heat grill and place salmon on grill, flesh side down. Cook for 8 minutes then flip and cook on other side until salmon is cooked through, 6 minutes more. Let rest 5 minutes.
Meanwhile make sauce: In a medium saucepan over medium heat, add butter, lime juice, honey, and garlic. Stir until butter is melted and all ingredients are combined. Turn off heat and add cilantro.
Pour sauce over salmon and serve. 4 servings.
Spicy Filet Mignon with Grilled Sweet Onions (My Recipes)
Cooking spray
2 cups vertically sliced Vidalia or other sweet onion
1/8 teaspoon salt
1/8 teaspoon black pepper
1 teaspoon garlic powder
1/2 teaspoon ground cumin
1/2 teaspoon dried oregano
1/4 teaspoon salt
1/4 teaspoon ground red pepper
1/4 teaspoon black pepper
4 (4-ounce) filet mignons
Heat a grill pan over medium-high heat. Coat pan with cooking spray. Add onion; sprinkle with 1/8 teaspoon salt and 1/8 teaspoon black pepper. Cook 8 minutes or until browned, stirring occasionally. Remove from pan; keep warm.
Combine garlic powder and next 5 ingredients (through black pepper) in a small bowl; sprinkle over both sides of beef. Add beef to pan. Grill 5 minutes on each side or until desired degree of doneness. Serve with onion mixture. 4 servings.
1 medium yellow squash, sliced on bias
1 medium zucchini, sliced on bias
1 medium eggplant, sliced into 1/2-inch thick circles
1 red onion, sliced in 1/2-inch thick circles
2 Roma tomatoes, sliced in 1/2 lengthwise
1 red bell pepper, stemmed, seeded, and quartered
1 yellow bell pepper, stemmed, seeded, and quartered
2 portobello mushroom caps, gilled and peeled
3 green onions
Kosher salt
Freshly ground black pepper
1/2 cup extra-virgin olive oil
1/2 cup balsamic vinegar
Preheat grill to high.
Prepare all vegetables. Place vegetables in a roasting pan with the mushroom caps and green onions. Season vegetables generously with salt and pepper, and toss with the olive oil and balsamic vinegar. Place vegetables, cut side down, on the hot grill and cook for a couple minutes on each side, or until tender and nicely marked by the grill.
Remove from grill and toss with an additional 1/4 cup balsamic vinegar. Season with salt and pepper, to taste. 10 servings.
Pickled Jalapeños
½ cup white balsamic vinegar or unseasoned rice vinegar
¼ cup dry white wine or water
3 tablespoons sugar
1 tablespoon kosher salt
3 jalapeños, halved lengthwise, seeded
Broccoli and Dressing
1 avocado, halved
1 small garlic clove, finely chopped
¼ cup tahini
1 teaspoon finely grated lemon zest
7 tablespoons fresh lemon juice, divided
⅓ cup cilantro leaves with tender stems, plus more for serving
8 tablespoons olive oil, divided
Kosher salt, freshly ground pepper
1 pound broccoli (about 2 medium heads), stems peeled, heads halved lengthwise
1 medium red onion, sliced into ½-inch rings
1 tablespoon toasted sesame seeds
Pickled Jalapeños
Bring vinegar, wine, sugar, and salt to a simmer over medium-high heat in a small saucepan. Place jalapeños in a small bowl or jar and pour brine over. Let sit until cool, or at least 1 hour.
Broccoli and Dressing
Prepare a grill for medium, direct heat. Purée one avocado half, garlic, tahini, lemon zest, 5 Tbsp. lemon juice, ⅓ cup cilantro, 4 Tbsp. oil, and 2 Tbsp. water in a blender, adding a splash of water if needed, until smooth. Season with salt and pepper.
Toss broccoli and onion with 2 Tbsp. oil; season with salt and pepper. Grill, turning occasionally, until broccoli crowns are dark brown in places and stems are crisp-tender, 5–7 minutes. Let cool slightly.
Coarsely chop broccoli and onion. Toss in a medium bowl with remaining 2 Tbsp. lemon juice and 2 Tbsp. oil; season with salt and pepper.
Spread tahini dressing on a serving platter and top with broccoli mixture. Drain some of the pickled jalapeños (you will have extra). Top broccoli mixture with remaining chopped half of avocado, sesame seeds, drained jalapeños, and more cilantro. 4 servings.
1 stick unsalted butter, at room temperature
1 teaspoon cinnamon sugar
2 tablespoons granulated sugar
Pinch salt
4 ripe peaches, halved and pitted
Canola oil
Mint leaves, for garnish
In a small bowl add the butter and stir until smooth. Add the cinnamon sugar, granulated sugar and salt and mix until combined.
Heat grill to high. Brush peaches with oil and grill until golden brown and just cooked through. Top each with a few teaspoons of the butter and garnish with mint leaves. 4 servings.