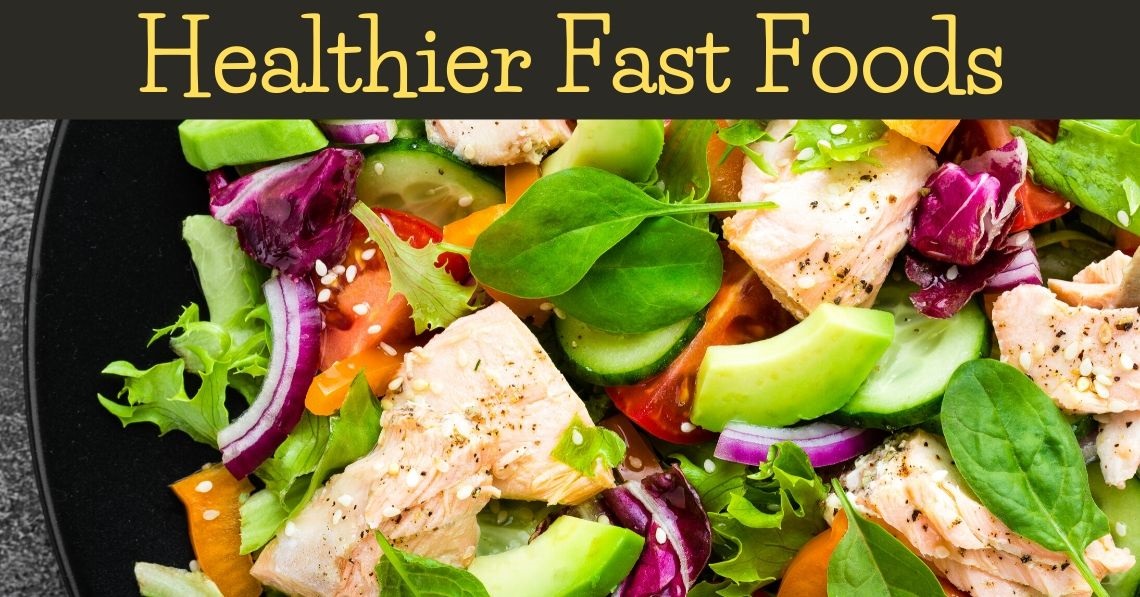 Fast food isn't typically the healthiest option, but it is often the most convenient and inexpensive. As many as 50 percent of Americans eat fast food at least once a week, and many people even more often. That amounts to a lot of meals that aren't the most nutritious, or the best for healthy eating.
Busy lifestyles, kids and travel all can necessitate eating fast food. And while it's OK to indulge once in a while in a high-calorie favorite, like cheese fries, this should be the exception rather than the rule. Instead, choose healthier fast foods to reduce calorie, fat and sodium intake. With calorie contents now listed on fast food menus, you can tell immediately which items can max you out in one meal.
But it's not just about calories. Also consider what you're eating. A small hamburger might have the same calorie content as a side salad, but the salad provides more nutrients and fiber from the veggies (just keep the dressing light). Today, there are more nutritious options on menus, so, to get you started, we've compiled a brief list of some healthier fast foods at several popular restaurants. Try ordering one of these the next time you hit the drive-through.
Healthier Fast Foods
Culvers
Skip the Butterburgers and Concrete Mixers and opt for the grilled chicken sandwich, a salad or soup (if it's available).
Subway
You can't go wrong with the Veggie Delight salad or sub. If you want some meat, choose the Sweet Onion Chicken Teriyaki, Oven Roast Chicken or Rotisserie Style Chicken. Stick with 6-inch sandwiches, and choose pretzels or baked chips if you must have some crunch.
McDonald's
Forget the Big Mac and Quarter Pounder, and choose a plain hamburger or grilled chicken sandwich with a side salad. If you must have fries, get a small size or order a Happy Meal for automatic portion control.
Panera
There are a lot of options for healthy fast food here, so try some salads (like the Asian Sesame Salad with chicken) or broth-based soups (skip the bread bowl) or even the newer Bowls, such as the Mediterranean Grain Bowl or the Baja Grain Bowl.
Taco Bell
Stick with chicken or steak tacos with minimal cheese and no sour cream. The Chicken Soft Taco Fresco style is a good choice. Add a side of black beans and rice for a healthy dose of protein and fiber. Or select the Veggie Power Menu Bowl, with black beans, rice, lettuce, guacamole, pico de gallo and more. Add chicken for more protein.
Jimmy John's
Try the Unwiches to eliminate the bread in favor of a lettuce leaf. The Club LULU Unwich has turkey, bacon, tomato, mayo and lettuce. Add the Thinny Chips and a kosher dill pickle for a low-cal meal.
Chik-Fil-A
The Grilled Chicken Cool Wrap includes chicken, lettuce, carrots and cabbage, wrapped with a flaxseed flour flatbread.
Panda Express
Don't be tempted by the fried options, and eat the broccoli beef instead, with brown rice and steamed veggies. Add a chicken pot sticker if you want more protein.
Chipotle
Opt for a salad, rather than a burrito, and fill it with lettuce, rice, black beans, protein like chicken, salsa and fajita veggies. The guacamole is high in fat, but the good kind of fat, adds protein and fiber, and it can serve as a dressing on your salad.
Wendy's
The Apple Pecan Chicken Salad and Southwest Avocado Chicken Salad load up on protein and fiber. Just limit your dressing to reduce the fat content. A plain (not loaded) baked potato always is a good choice as well.