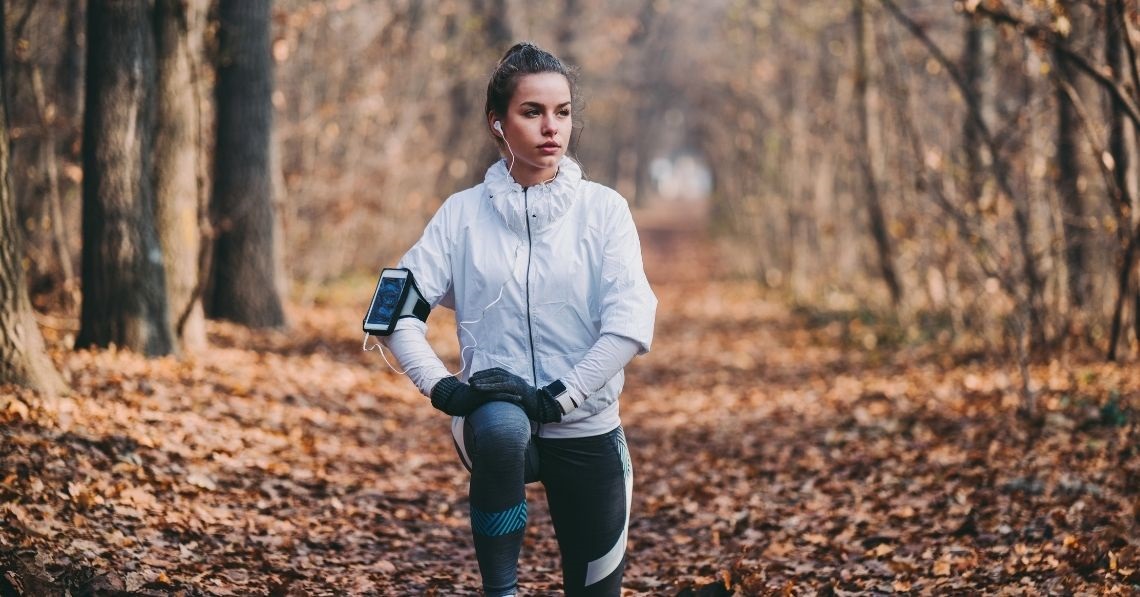 It's officially fall in the U.S., and it's a great time to exercise outside. The heat and humidity of summer are in the rearview mirror, and the cold temps and bitter wind chills haven't yet hit.
Whether you've been working out at home due to COVID-19, or if you're hoping to add variety to your typical gym routine, fall outdoor workouts are ideal. You'll be invigorated by the crisp air, sunshine and beautiful views of the changing colors of nature. Whatever you choose to do during this short season can add interest to your traditional sweat sessions.
Fall Outdoor Workouts
Run – Just because COVID-19 led to the cancellation of many races doesn't mean you can't log miles to boost your physical and mental health. Perhaps participate on a virtual race to maintain your motivation and medal collection, or join a running group. Be sure to dress for the weather and wear something reflective if you're headed out in the early morning or evening, since daylight hours are limited. And carry water with you.
Walk – Walking has earned new fans, as quarantines and gym shutdowns limited exercise options. While it's OK to amble with the dog, you'll need to get more intentional to make walking a true workout. Move quickly and keep a good pace, pumping your arms to propel you forward and elevate intensity. Or seek out some hills and walk up and down for a great lower-body challenge. Create your own route or use an outdoor track to time your laps. Even better, grab a friend so you can push each other while you chat; it's smart multitasking!
Bike – Again, nothing wrong with a leisurely ride, but replicate your indoor cycling classes with faster paces, steady flats and hills if you have access to them. Take advantage of windy days for extra resistance, bike a trail if possible and wear a helmet. Enjoy socially distant rides by joining a cycling group or gathering a few like-minded friends.
Join a class – Depending on the weather in your area, you may be able to participate in some outdoor group classes, such as boot camp, pickleball, strength training and more. Check your local rec center or fitness boutiques for options. Another plus – you get built-in accountability and socialization!
Hit your backyard – Virtual workouts are here to stay, and if you're tired of your basement or living room, set up your laptop and speakers in your backyard for a welcome change of scenery. Bring your mat, dumbbells and water bottle and enjoy an open-air routine.
Take the stairs – Head to your local high school stadium and take on this giant stair climber. You don't have to run; walking up and down the stairs should be plenty difficult, or create intervals where you walk up the stairs and then run down. Watch your footing so you don't trip, and skip the stadium if it's wet outside.
Circuit train at the park – Walk or jog to a nearby park, and capitalize on the surroundings to exercise. For instance, perform squats facing away from a bench, lowering your hips just to the surface and standing up again. Or use the bench to do incline push-ups or triceps dips. Try wall sits or handstands against a tree, take on ab curls using the monkey bars, and do lunges with your back leg resting on a swing. Be creative!
Hike – Seek hills, mountains and trails, strap on a weighted vest, and get climbing! Always dress for changing weather, bring water, carry your phone and tell someone where you will be.