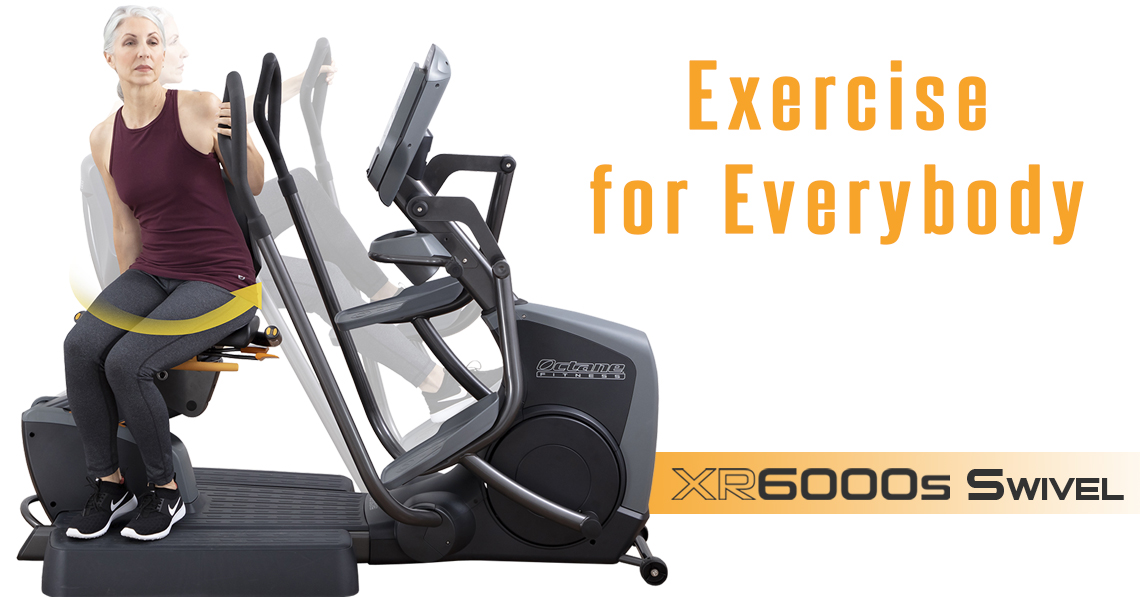 With all the HIIT madness prevalent at health clubs today, exercisers who may not be able to withstand such unrelenting intensity and high-impact movements may feel a bit left out on their own. Of course, you can modify exercises in most HIIT sessions, but sometimes it's hard to be the only one marching in place while everyone else is doing tuck jumps.
As more Baby Boomers age, and as more seniors embrace regular physical activity, exercise must be available in a variety of formats, beyond simply HIIT, that these growing populations can successfully perform. Fitness professionals have continued to develop specific classes that accommodate beginning and maturing exercisers.
In addition, there are more options than ever when it comes to fitness equipment that is suitable for all levels of exercisers. Treadmills, stationary bikes, ellipticals and rowers are low-impact options that most individuals can use at a leisurely, moderate or challenging intensity.
xRide Recumbent Elliptical
And the xRide recumbent elliptical from Octane Fitness is a unique modality that offers exercise for everybody. In fact, the new xR6000S was designed especially to comfortably accommodate exercisers of different abilities, fitness levels and ages.
The xRide delivers no-impact, total-body workouts – just like a traditional standing elliptical – but incorporates a seat for support and security for those who may prefer to sit during exercise. Its longer motion makes it better than a recumbent bike and a seated stepper. Plus, the xRide is loaded with thoughtful features that truly make it exercise for everybody:
Exercise for Everybody
Easy access: Featuring a step-through design, with an open area on either side of the machine and the handlebar pivot point located at the front, it's simple to get on and off of the xRide. New oversized side platforms with a low step-up height also enhance accessibility with a sturdy foundation.
Swivel seat: As an extension of easy access, the new swivel seat on the xR6000S rotates +/-210 degrees to maximize ease of entry and exit.
Custom comfort – The Active Seat Position on the xRide is designed for optimal comfort, with a large, cushioned seat with a backrest set at a 45-degree angle to open the hip flexors and torso for greater range of motion. Multiple seat tilt settings and virtually infinite seat height adjustments deliver a perfect fit for exercisers of different sizes.
PowerStroke technology – Differentiating the xRide from other seated cardio machines, PowerStroke technology facilitates a longer elliptical motion, both forward and backward, so exercisers use more muscles and benefit from a more productive workout.
Upper and lower-body isolation – MultiGrip handlebars provide several placement options to emphasize different muscle groups and ensure that the upper body is fully engaged. To periodically isolate the upper body, exercisers can put their feet on the stationary foot pegs. Or they can rest their arms if necessary by holding the stationary handlebars.
Program variety – Equipped with 30 resistance levels and 14 programs, the xR6000S delivers everything from leisurely rides to rigorous challenges to meet the needs and preferences of all exercisers.
Workout Boosters – Only Octane provides Workout Boosters, such as X-Mode, Leg Press and Chest Press, to build muscular endurance during target intervals while simultaneously performing cardio. Efficient and effective for greater ROI!
Interactive options – With the intuitive standard console, it's simple to get started and keep an eye on your workout data and progress. Or capitalize on the smart console, which adds an internet browser, streaming videos and music, along with instructional videos for Workout Boosters. Or add a personal viewing screen or 900 Mhz wireless receiver for abundant television and entertainment selections on the xRide.