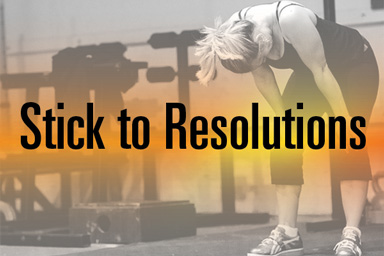 Around mid-February into March, health clubs typically report a drop off in check-ins, representing the absence of those who started working out with ambitious New Year's resolutions, only to get derailed after six to eight weeks.
Research supports that about 50 percent of exercisers quit after six months. Despite good intentions, many people become overwhelmed by common barriers to exercise, thereby letting their workout resolutions fizzle out.
There are some common reasons (real or perceived) for the lack of exercise adherence include:
Lack of time
Job demands, including travel
Illness or injury
Fatigue
Cost
Poor self-image
Lack of results
The good news is that all of these barriers to working out can be overcome, and with the proper planning, you can stay motivated to make exercise a habit.
It starts with a mindset that exercise is beneficial, keeps you healthy and is worthy of a commitment. If you don't really understand the multitude of exercise benefits, talk to a fitness professional or simply Google this, and be prepared to be amazed at what you learn. Regular exercise is one of the best things you can do for your health, so make it a priority.
And remember, you're not just aiming to exercise for a few months; but working out must become part of your ongoing routine to truly be effective. Exercise shouldn't just be an occasional activity, but a part of your weekly regimen.
Consider the following tips so that you don't let your workout resolutions fizzle out:
Set goals – Some people need a goal, like running a 5K or doing 25 push-ups, to keep their eyes on the prize when exercising. Choose a weight loss goal or a goal of simply getting to the gym three times each week. Write it down where you will see it often, and commit to it.
Schedule workouts – Nobody seems to have any "free time", so schedule weekly workouts in your calendar or phone, and block out this time just like you would for work. Determine ahead of time when you will go to the health club and when you'll exercise outdoors or at home. And honor this schedule – don't continually let other "priorities" push aside your workout plans, or fairly soon, you will be off track.
Incorporate variety – Habits are fine when it comes to exercise, but eventually you may get bored with the same 30-minute routine on the treadmill. And doing the same workout all the time leads to physical plateaus as well. Mix up your workouts to stimulate your body and mind. Try new activities, take a class, join a running club, rent some workout videos or check out online options to vary your workout modality, duration and intensity.
Be flexible – Life sometimes gets in the way – you get sick, the kids have activities, you work late or it's raining. Don't quit! Modify your plan as necessary, move your workout inside, set the alarm earlier and do an early-morning session or jump on your treadmill instead of going outside. If you just can't exercise on a scheduled workout day, do it the next day. Missing a day should not be an excuse for giving up entirely.
 Just do something – When you are tight on time, short workouts are better than nothing at all. Walk on your lunch hour, do 10-minutes of high-intensity calisthenics in the morning, take the dog for a quick jaunt, or add some squats, lunges, push-ups, planks and crunches while you watch TV programs or the news.
Never say never – If you break your workout resolutions, remember you can always start them again!
Use these tips to stay on track and achieve those resolutions! Stay Fueled.