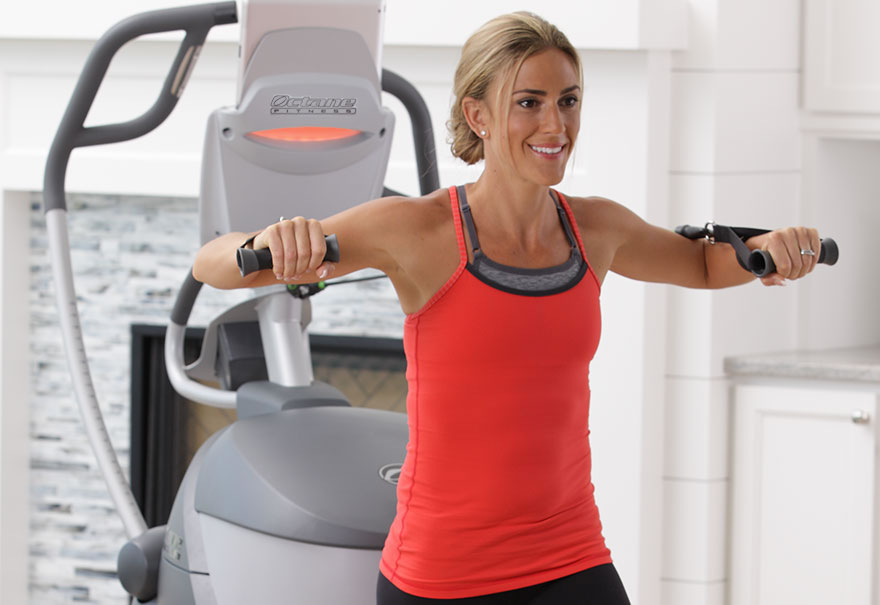 If you're a regular exerciser, undoubtedly you've heard about CrossFit, which are back-to-basics, no frills, intense workouts taking place with dumbbells, barbells, racks and cages in facilities called "boxes." Known for its WODs (Workouts of the Day) and AMRAP (as many reps as possible), CrossFit incorporates functional strength and conditioning movements to motivate people everywhere to challenge themselves and embrace achievement.
But you don't have to go to a box to get a CrossFit-style workout. With an Octane Fitness elliptical and CROSS CiRCUIT, you can take advantage of your own invigorating cardio and strength workouts right at home.
Using the CROSS CiRCUIT program, you alternate cardio intervals on the elliptical with strength moves on the floor. You decide how long and how intense your cardio sessions are, and then you determine what exercises and what equipment you'll use for strength-training. Depending on what you have, you can use Octane's Powerbands, dumbbells, barbells, kettlebells, a stability ball, a medicine ball, a balance trainer and more.
Again, with the strength sections of your workouts, you can choose an upper-body, lower-body or core focus, or do a total-body blast. You pick how many reps to do and the duration of the intervals.
Among the greatest benefits here are the ability to work at high intensity for short intervals, and to combine cardio and strength for optimal conditioning, calorie burn and time efficiency. Similar to CrossFit, you can increase stamina, build strength, improve tone and lose weight with CROSS CiRCUIT. Oh yea, and you'll feel pretty darn good about yourself after conquering a couple of these challenges as well.
Let's face it – most of us are working out to look and feel better. And we can't spend all day doing it, so workouts must be effective to produce results. CROSS CiRCUIT delivers the valuable conditioning of CrossFit in the convenience of home. And even better, you don't have to follow someone else's workout, but you get to design your own to suit your abilities and goals.
Who needs CrossFit when you have CROSS CiRCUIT?