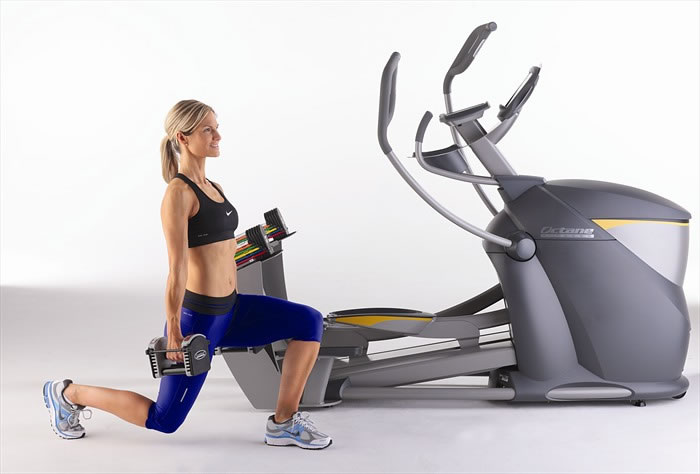 If consistent exercise is good, then cross training is even better. At its most basic level, cross training is simply varying your workouts so that you aren't doing the same 30-minute jog on the treadmill at 6 mph every time you exercise, month after month.
While there's nothing wrong with having a favorite workout or modality – and it sure beats lounging on the couch – the benefits of cross training are worth shaking up your sweat sessions regularly.
True fitness incorporates cardiovascular endurance, strength and flexibility, and you typically cannot get all three of these in one modality, repeated over and over. That means you should find ways to train for each component, such as swimming or cycling for cardiovascular endurance; lifting weights for strength and taking a yoga class for flexibility, for instance.
Another new way to perform cardio activity is the Octane Fitness LateralX trainer, which combines traditional elliptical motion with adjustable, side-to-side movement for an invigorating, one-of-a-kind workout. This is no regular elliptical – its lateral motion is a totally different way to move on a cardio machine – and your glutes, hips and thighs will definitely feel the burn!
Plus, you can incorporate strength training on the LateralX with the CROSS CiRCUIT routine for a double bonus in cross training. CROSS CiRCUIT has you alternating between cardio intervals on the elliptical and strength training exercises next to the machine. Virtually anything goes here as far as strength work – you can use Octane's Powerbands, or dumbbells, barbells, kettlebells, medicine balls and more for a variety of strength moves like lunges, squats, push-ups, rows, curls, etc. Talk about a total-body blast!
You don't necessarily need a lot of time to cross train – you simply have to use the time you have differently. Then enjoy some of the many benefits of cross training, including:
Better overall fitness
Greater strength
Higher metabolism
Increased range of motion
Reduced likelihood of injuries and overuse syndrome
Enhanced motivation
Improved adherence
Try some of the multiple ways to cross train – be creative – and your body and mind will reap the rewards!