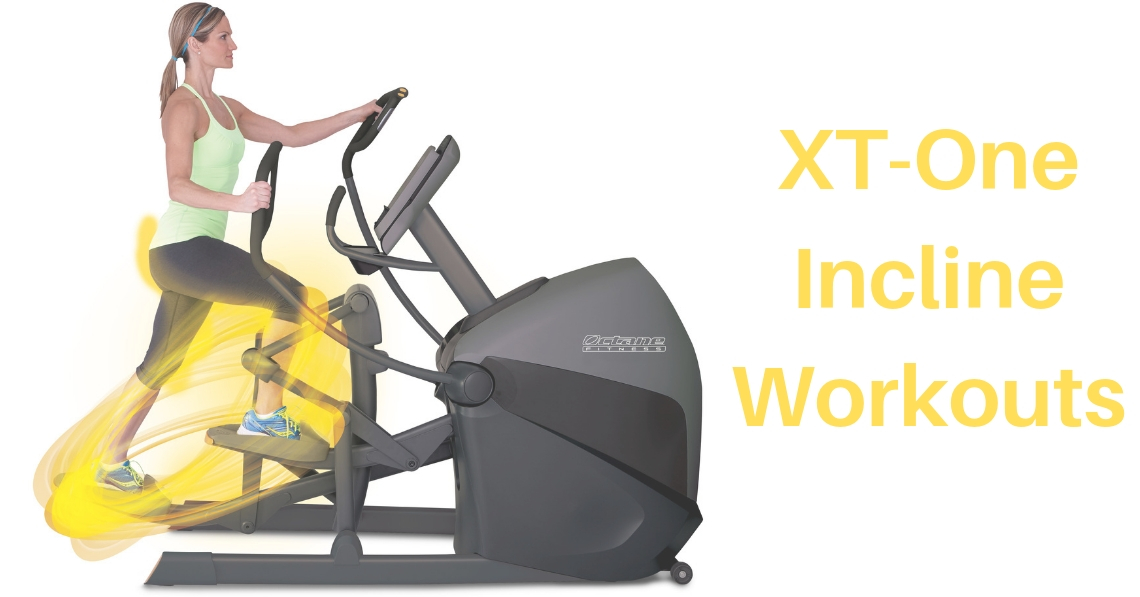 There are more ways to exercise today than ever before. That's great news, especially for those of us who crave variety in our sweat sessions. Clubs and fitness centers around the globe have tons of equipment, classes and programs dedicated to getting – and keeping – us moving.
Whether you're cross training by doing different class formats, or by hopping on different machines, it's all good. You'll not only beat boredom, but you also will discover some new modalities that you like.
One of those might be the XT-One cross-trainer from Octane Fitness, a versatile, total-body machine that facilitates several movements without punishing impact to your joints and muscles. On the XT-One, you can walk, run, hike or climb – all at the push of a button.
Choose your stride from 20"-28", which provides a natural range of motion for shorter and taller exercises. And pick from 10 incline levels to graduate from easy hills to steep climbs. Plus, 30 resistance levels provide custom challenge for every walk, run, hike and climb.
Walking and running on the XT-One at no incline or with a very slight incline feel similar to traditional standing elliptical motion. Choosing to hike and climb, however, changes the game entirely and adds even more benefits.
Benefits of Hiking and Climbing Routines
Lifting and lowering your body weight repeatedly during XT-One incline workouts is definitely, but well worth it:
Strengthens lower body by greater use of the quads, hamstrings, hip flexors and glutes
Tones glutes
Increases caloric expenditure
Improves stamina
Boosts bone strength
Engages core
Provides specific training for outdoor hikes
XT-One Incline Workouts
The XT-One comes equipped with multiple workouts that offer valuable hiking and climbing experiences. Among the XT-One incline workouts:
Progressive Hill – This steady climb features increasing resistance and incline so you can make it to the top of the hill during your workout, one step at a time.
Mountain Peak – Decide your maximum incline level from 1 to 10, and the machine gradually increases resistance and incline level every two minutes throughout your specified duration to reach the peak. Once you summit, the XT-One reverses the process by progressively decreasing intensity as you descend.
30:30 Hills – HIIT at its best, this routine tests your endurance with five sets of 30-second sprint and recovery intervals. You choose from low, medium or high intensity levels to get started. Sprints have a higher resistance level, and incline increases with each set. Between sets, the program evaluates your heart rate recovery – a higher number indicates a better fitness level. Use this regimen to measure your progress over time.
GlutePower – A Workout Booster that you can activate at any time during any workout via the console button, this provides one-minute intervals of intense lower-body work, followed by two minutes of recovery before repeating the cycle. The faster you pedal, the greater the resistance level and the higher the incline. When you slow down, the resistance and incline decrease. This is a great way to run up and down hills!
Manual – You're in total control on this one, adjusting your incline and resistance level up and down throughout interval workouts or whatever your preference. For the most natural motion, activate SmartStride with the push of a button, which automatically adjusts the stride length throughout your session based on your pace.
Quick Start – Choose Hike or Climb directly on the console for a moderate stride length of 24" and an incline of 5 (Hike) or take on the mountain with a 28" stride length and an incline at level 10.