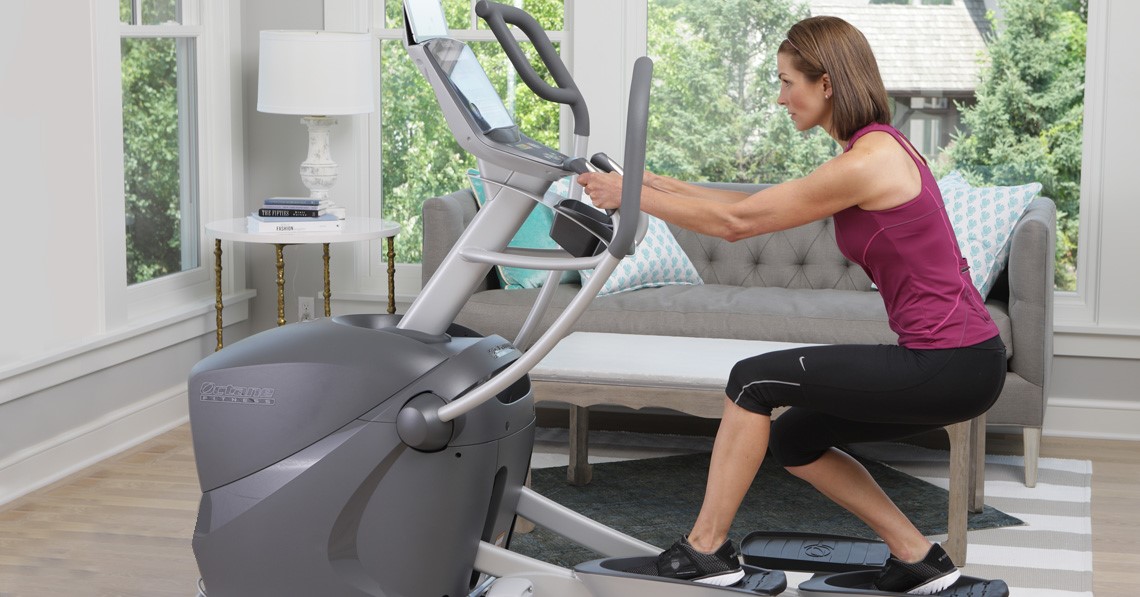 Due to the cornonavirus pandemic, home workouts and home fitness equipment sales have skyrocketed in popularity. Everything from dumbbells to mats to stationary bikes and more sold out almost immediately as people sought ways to maintain their fitness with gyms shuttered.
Online workouts have provided multiple options for those without home fitness equipment. But still, the lure of an elliptical, rower or even just free weights, remains strong. Even as gyms have reopened, some exercisers are sticking with their home routines, or supplementing their health club sessions at home.
As fitness equipment inventories gradually improve, now is a good time to purchase home fitness equipment before the traditional holiday season and New Year's rush. Here's what to consider when buying home fitness equipment.
What to Consider When Buying Home Fitness Equipment
Modality – Seems like a no-brainer, right? First think through what you really want instead of just impulse-buying a treadmill on sale, for instance. Consider if you prefer a cardio machine or strength equipment, and measure the space available (including ceiling height) to ensure you have adequate room.
Only buy what you are certain you will use. Again, seems obvious, but don't pick up a rower if you don't really like rowing. And don't get an elaborate home gym if you typically shun strength training. Aspirations and intentions certainly can be good, but invest in home fitness equipment that you'll regularly integrate into your routine. Moreover, you can wait until you find good deals, and invest in hoist gym equipment, which will help transform your home into your personal gym.
One good piece of cardio equipment or a few sets of dumbbells can facilitate many effective workouts. But before you buy, think about how this home fitness equipment will complement or replace your existing routine. You may want to continue to incorporate variety rather than doing the same treadmill workout three times per week.
Budget – Of course, if you have a very limited budget, you may choose to buy some weights, a stability ball, a mat and a few resistance bands. Or keep saving until you can afford a quality piece of cardio equipment.
When it comes to cardio machines, you get what you pay for. While it may be tempting to snatch up a very low-priced machine, you may regret this quickly, as the performance, features and durability may be poor. It's better to invest in a higher priced machine, like those from Octane Fitness, that will deliver a variety of effective workouts over the years.
For free weights and fitness accessories, the lowest-priced products may not last as long as those that cost a bit more, particularly with frequent use. However, you may snag deals at resale shops or garage sales, or at stores that are going out of business.
Features – Home fitness equipment today ranges from basic to high-tech, so it's important to evaluate what features you will use, and which may not matter to you. For instance, heart rate monitoring is common on cardio machines, and a helpful indicator of how hard you're working.
If you're looking at ellipticals, do you want adjustable stride? Adjustable incline? HIIT regimens? If you're tech-savvy, do you want your machine to synch with your smartwatch, activity tracker or fitness app?
Features can add valuable variety to home fitness equipment, but they also can increase price. So don't pay for extra bells and whistles that you'll never use.
Operation – Just like test-driving a car, try the fitness equipment before you buy it to assess how it feels and how loud it is. Although this may not be possible with online purchases, be sure to read reviews prior to purchase. Know if you need access to an electrical outlet, and compare deals for shipping/delivery, installation/assembly and product warranties.