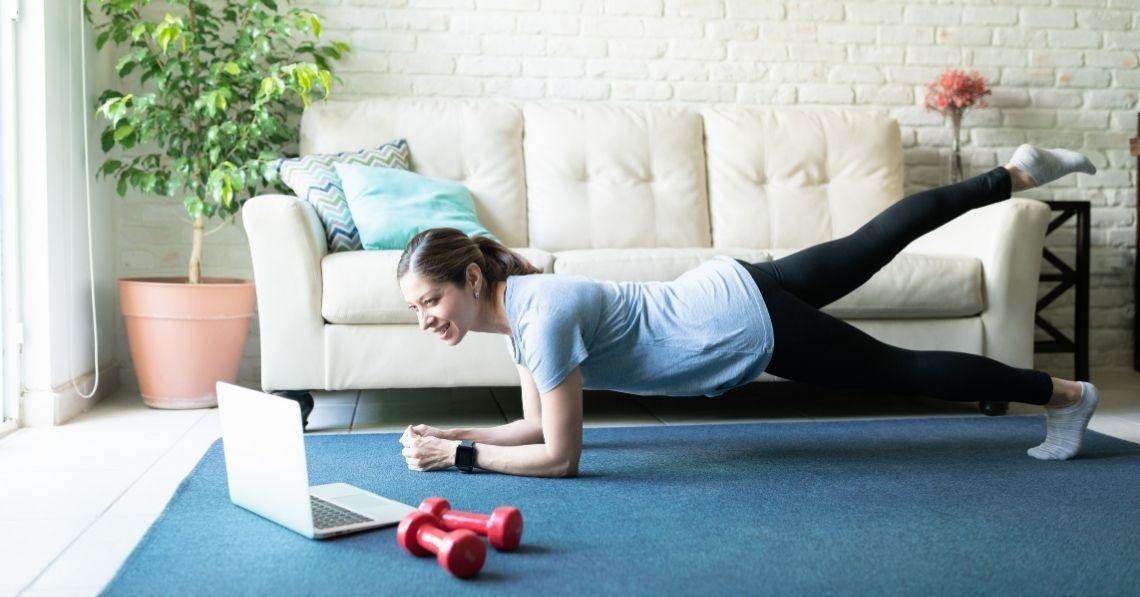 As we do annually, it's time to look ahead at the top fitness trends for 2021. Given the pandemic's dramatic influence in altering where, when and how we worked out in 2020, and in fostering uncertainty in the new year, it's no surprise that the current list shows some significant shifting in the results from previous surveys.
Since 2018, we have highlighted results from the American College of Sports Medicine's (ACSM) Worldwide Survey of Fitness Trends for 2021, which is now in its 15th year. More than 4300 fitness professionals (up 44% from last year) worldwide chose among 41 potential fitness trends to determine the top fitness trends for 2021.
Top Fitness Trends for 2021
Online training – Given the multitude restrictions of COVID-19 and the shift largely to home workouts, online training, via live stream or on-demand, has skyrocketed. Even as gyms reopen this year, online training will remain a popular option for its convenience, variety, privacy and affordability.
Wearable technology – In the No. 1 spot since it was introduced on the 2016 survey, this includes fitness trackers, smart watches, heart rate monitors, GPS trackers, along with new devices such as oxygen saturation, blood pressure and electrocardiogram tools.
Body weight training – Another no-brainer here, as gyms were shuttered and people had to exercise at home with whatever equipment they did (or didn't) have, body weight training is always available, effective and free.
Outdoor activities – Considered a lower-risk environment for disease transmission, the great outdoors became the new hot spot for group fitness, training sessions, solo workouts and a noticeable increase in people walking, biking and jogging.
HIIT – A perpetual top vote-getter, high-intensity interval training (HIIT) has remained popular because it's effective, efficient and can be performed anywhere, with or without equipment. It's a great way to increase stamina, blast calories and boost metabolism.
Virtual training – Defined in the survey as pre-recorded workouts that are available on screens on demand at health clubs, virtual workouts are a convenient option when larger, live group ex classes in health clubs were not permitted or were perceived as potentially higher risk activities.
Exercise is Medicine (EIM) – This global initiative aims to integrate healthcare and the fitness industry by encouraging health care professionals to assess and recommend physical activity as part of every patient visit, along with referring to local exercise professionals.
Strength training with free weights – Functional training and the emphasis on the importance of strength workouts have kept this trend in the top 10 over the years – even despite the difficulty in buying dumbbells in 2020.
Fitness programs for older adults – Fueling this category are the growing Baby Boomer and older generations, who are living longer, have more discretionary income than younger populations and want to stay active and healthy.
Personal training – With the greater demand for online, outdoor and in-home workouts, trainers today are able to reach even more clients in more places, who are seeking personalized instruction and accountability.
Health/wellness coaching – Another avenue for custom instruction and accountability, health/wellness coaching helps individuals who are pursuing a holistic, healthy lifestyle. Coaches focus on a client's needs, values and goals, and provide behavior change intervention strategies and support.
Mobile exercise apps – Jumping up from the No. 25 spot in 2020, fitness apps not only have helped people exercise at home and on their own when the pandemic restricted access to gyms, but also continually have fed our hunger for personal data and progress tracking.
See all of the 20 top fitness trends for 2021, including functional training, yoga and more HERE.