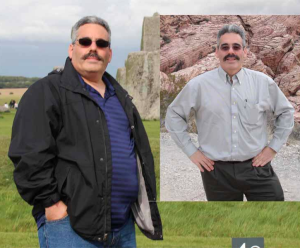 How I lost weight using my Octane Fitness elliptical machine!
I had always been a larger guy as an adult and through most of my youth. I also have always been lazy when it comes to exercise and really have no interest in sports. For the past 5 years, I traveled for work and flew as much as 175,000 miles in a year and ate business meals all over the world making me an even larger guy. About a year ago, I boarded a flight and the flight attendant handed me a seat belt extension without me asking for it. I glared back and said, "I don't need this angrily, and the flight attendant apologized but I did need to recline the seat just a hair to get the seat belt on and realized that I had no clue how big I had become. It was a 15 hour flight and when I bent over I blew out the seam in the seat on a pair of 44 inch pants and the rest of the flight flight I wore a blanket over my pants to avoid further embarrassment and decided it was time for a change.
I got home and weighed in at a whopping 320 pounds. I had to chose an eating plan and went with a no carbs one and also started to make an exercise plan. At home, I had my Octane Q45 elliptical machine and an old exercise bike. I decided to use the bike since I thought it would be better on my bones to sit and would create less impact. I was wrong. It actually made my back and knees hurt even riding for only 5 minutes. I was shocked how little endurance and stamina I had. I switched to my elliptical that was mostly used before by my wife and was able to go at a slow pace for about 5 to 10 minutes less painfully to my joints but still winded and fatigued. I did this every 2 or 3 days until I could finish 10 minutes then tried to increase my speed a bit.
Weight started to come off and as I got a bit smaller, the workouts got better too. After a few months, I could increase speed and also was up to 15 minute sessions still drenched in sweat and breathing hard, but none the less doing better.
By July of 2012, I was down 60 pounds and going a full 20 minutes but hit a plateau in weight loss, The beauty of it though was that I looked a lot better and regained confidence in my appearance. I recruiter from a new company contacted me and I killed the interview. August 1, I changed jobs and no longer had to travel so far and for so long. I also discussed my plateau with a doctor who altered my eating plan a bit and soon weight started to drop off again.
My workout now is at an average speed of 50 and I go for 45 minutes to an hour for an average distance of 5 to 6 miles according to the readout. I have never had so much energy and can go hiking and walking like I did as a kid, and currently am down 120 pounds. My workouts are now almost every other day when I am home and I plan to hook up a TV to my elliptical so I can be more apt to use it maybe daily. I still have about 20 pounds to reach my weight goal and really need to expand my fitness regiment to include more cardio but also some muscle strengthening and flexibility.
I owe my successes in weight loss to a great eating plan but mostly to my great elliptical training machine. I was able to work out, get my heart going, and do it without pain and agony from too much impact on my joints when I use it.
Thanks so much for creating such a well made and useful machine. I really love my Q45.
I forgot to mention that I now am wearing 36 waist pants that are falling off of me and today weighed in down 122 pounds. Only 18 more to reach my goal.
________________________________________
Congratulations to Andrew D. on all his hard work and success!  You can share you success story with us too by emailing it to marketing@https://www.octanefitnes.com.