INTRODUCING THE NEW OCTANE SURGE CYCLE BIKE FROM OCTANE FITNESS
About
Octane Fitness has been developing low-impact cardio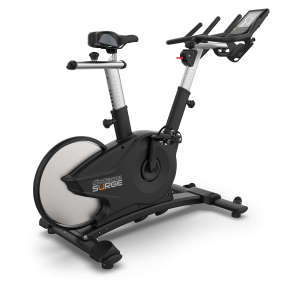 products for commercial facilities and homes for over 20 years. With extensive research, development, and consistent premium quality comes our latest innovation, The Octane Surge Cycle Bike. Our performance-driven commercial cycle bike will withstand the rigorous demands of your club or facility.
Quality & Durability
The Octane Surge matches the quality of any Octane Fitness product. Our engineering team had to keep many components in mind when developing the Surge to create a smooth, maintenance-free ride.
A maintenance-free poly-v belt that makes replacing the belt or oiling it a thing of the past.
The rear flywheel design protects from sweat and corrosion, creating little to no worry as a facility owner.
When looking at how to power the console itself, our team created a self-generating version, eliminating the need to replace batteries frequently.
The pedals are strong, built with a spline crank, ensuring that your members have a safe yet focused ride.
When your members want to challenge themselves, the magnetic resistance system will aid in just that. Magnetic resistance eliminates the need for any service tech, club owner, or user to replace any friction pads like many friction resistance systems.
Biomechanics & Flexibility
Octane Fitness knows it is essential to create a user-friendly machine with correct biomechanics to produce results. The Surge Cycle Bike follows true with that. Like all Octane products, this bike is a low-impact machine putting your joints at ease by removing constant pounding and pressure, ensuring an easy ride for years to come. The Surge comes with stretch plates on either end of the bike for pre or post-cycle workouts to stretch the desired muscle group. Ergonomic handlebars allow exercisers to accommodate 13 levels vertically and five levels horizontally, while the dual adjustable seat maneuvers similarly to find the perfect setup for every rider.
Console Features
The Octane Surge Cycle Bike is perfect for any setting within your facility. The Surge can handle it all, whether the sole use is on the fitness floor, in a cycle class, or a facility for athletic practices. A 7-inch backlit LCD screen is self-generated on the enhanced console. Incorporated within the console is a dynamic calorie meter, plus real-time feedback on all performance measures, including distance, time, RPM, and heart rate, which will give you the information you or your members need to keep pedaling. Members can navigate through preset programs to target their desired workout.
Ride the Surge
The Octane Surge is perfect for any facility and user. With the unique features, low maintenance, self-generated console, and ergonomic design, members will enjoy the ride no matter where they are. To learn more about the Octane Surge Cycle Bike, visit https://www.octanefitness.com/commercial/products/airdyne-bikes/surge/ It's time to ride the Surge!