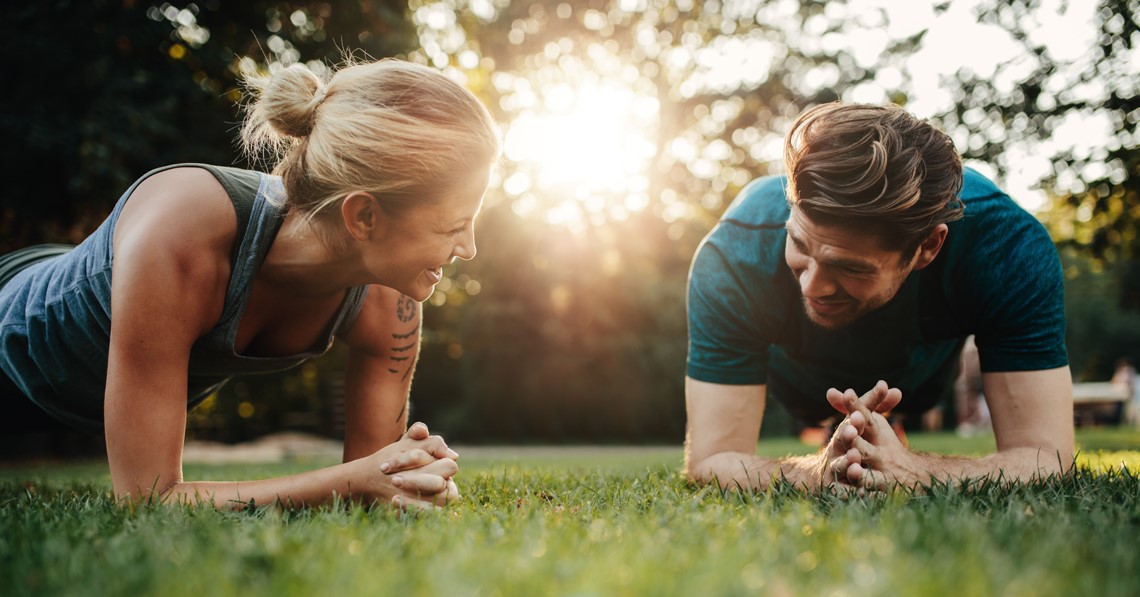 Motivation to work out has always been a struggle for many people, but throw in a global pandemic, and even the most dedicated exercisers can be challenged to maintain their routines. When gyms closed around the world, health club members quickly had to find new ways to get their sweat on from home – whether they had any equipment or not.
Even regular at-home exercisers may be facing waning motivation when coping with the massive instability, lifestyle changes and ongoing uncertainty brought on by COVID-19. Let's face it – it can be tough to get out of bed for your typical morning workout when you've lost your job, are exhausted from entertaining your kids at home all day or just feel overwhelmed from the constantly changing circumstances.
Pandemic or not, all but the most diehard exercise aficionados deal with varying levels of motivation at times. So don't beat yourself up if you've struggled to maintain your pre-COVID-19 regimen. Look ahead instead, and consider how best to get going again. The good news is that there are ways of successfully increasing your workout motivation.
Increasing Your Workout Motivation
Make a plan. You're never going to simply "find time" to exercise. You must schedule workouts proactively, and it may not be as easy as just going to the gym if your fitness center isn't open or fully operational yet. Put specific days and times on your calendar, and plan ahead for what you will do, whether that's an online class, a jog outside or your own elliptical workout. Guard that time.
Be flexible. Of course, when dealing with uncertain times, flexibility is key to increasing your workout motivation. So if you planned to take an outdoor class that was rained out, opt instead for a virtual workout. Or if your online class gets derailed because your internet suddenly goes down, then ride your bike outside, for instance.
Set goals. Those who are intrinsically motivated may not need specific goals, because workouts are habitual. Others find that a goal, like losing 10 pounds, or exercising 3 times per week, or running a half-marathon, is a powerful motivator for consistent sweat sessions.
Mix it up. While there's nothing wrong with running every day, increasing your workout motivation happens when you add variety to your routine. If you're not ready yet to return to the gym, seek out additional online offerings, purchase a piece of fitness equipment or new accessories or even hire a personal trainer for one-on-one sessions outdoors.
Multitask safely. For those of us who are tight on time, listening to an audio book, tuning into a podcast, catching up on your DVR library or enjoying a new playlist are great ways to maximize your exercise time. Just always be careful and pay attention to your workout!
Get a buddy. Having a workout partner can keep you accountable and even entertained. If you know you friend is waiting for you for your regular Saturday walk, you have built-in motivation and are less likely to skip. Plus, if you share your goals with your buddy, you can benefit from an instant support system.
Go outside. Especially after long stay-at-home orders, going outside can energize and invigorate you for workouts. Walk, run, inline skate, play tennis or pickleball or even take your yoga session into your backyard. Your mind and body benefit from the sunshine, fresh air and change of scenery.
Invest in new gear. This doesn't have to be expensive, but new workout apparel, shoes, water bottle or even a fitness tracker can spark more motivation to get moving.