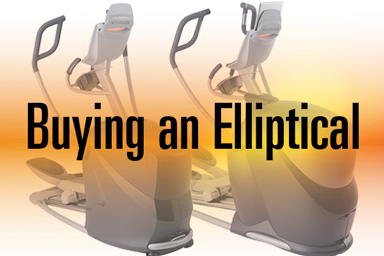 For convenience, nothing beats home workouts. And today, a great variety of products exists – from simple dumbbells to premium cardio equipment – to equip your home gym. Elliptical machines are among the most popular at health clubs, and typically are ideal for multiple exercisers within one household.
However, it can be a bit overwhelming to consider all of your options, and you want to be sure to invest in a quality product that gets used regularly, versus one that doesn't feel good and ends up as an expensive clothes holder. The following are some valuable recommendations on how to buy an elliptical. A little forethought and consideration upfront can mean a big difference in making the best choice.
Elliptical Homework
The first consideration is your budget, because you can find an elliptical machine for $300 and one for $3000 or more. Be aware that with fitness equipment, less is definitely not more; you get what you pay for. Low-cost machines typically do not perform well or last long, so it's smarter to spend more to invest in a quality elliptical that feels good, operates reliably and offers you years of quality workouts. Do not scrimp here, or you will regret it later. A health club-quality machine that delivers premium performance typically costs about $2000 and up.
Secondly, evaluate where you will put the elliptical at home, and measure your floor space and ceiling height. Ellipticals come in different sizes and with various footprints, so know your area. You don't want to have a machine delivered only to discover that it doesn't fit because the ceiling is too low.
Consider who will use the elliptical machine. If you're buying just for yourself, of course, know your preferences. But if several family members will use the elliptical, ensure that it has a wide resistance range to challenge different fitness levels, several programs to satisfy multiple users and the ability to accommodate various user heights, weights and goals.
Research the different versions of ellipticals today, including these from Octane Fitness:
Standing Ellipticals – These are traditional models that work your entire body with low-impact motion and lower perceived exertion. You can burn a lot of calories in this weight-bearing version, and vary movements to go forward and backwards, or isolate the lower body or upper body only.
On some Octane models, change your stride length for variety, or try SmartStride®, which automatically adjusts your stride to accommodate your pace and direction. For even better results, CROSS CiRCUIT® lets you combine cardio and strength training into one efficient workout.
Recumbent Ellipticals – No exercise machine is more comfortable that Octane's xRide® recumbent elliptical. But just because it has a seat doesn't mean it's easy. Recumbent ellipticals afford all the benefits of standing versions, including total-body engagement and movement variety.
With the xRide, exclusive PowerStroke technology uses more muscles (glutes in particular) and helps you blast more calories that you would on a recumbent bike. Plus, Workout Boosters like Chest Press, Muscle Endurance and Leg Press, deliver targeted strength intervals for muscular endurance training.
Lateral Ellipticals – For outstanding variety, Octane's LateralX® is one-of-a-kind, with a vertical elliptical stepping motion that goes to an active side-to-side motion for challenging, motivating and effective workouts. Just moving your body laterally is a great way to improve your fitness level, since most cardio machines target front-to-back motion only.
You can burn 27% more calories when going from lateral width 1 to lateral width 10, and enjoy a 30% increase in inner/outer thigh work, compared to traditional ellipticals. And hit those tough areas in the glutes and thighs with the invigorating ThighToner and QuadPower programs.
Incline Ellipticals – With incline ellipticals, such as the new XT-One™ by Octane Fitness, you benefit from great variety and customization – all on one machine. Choose to walk, run, hike or climb with a push of a button, selecting from 10 incline levels, adjustable stride length from 20"-28" and 30 resistance levels. Targeting different muscle groups is easy and cross training is convenient by simply changing movements on the machine.
Workout Boosters like X-Mode and ArmBlaster instantly add interval training; and MMA, 30:30 and CROSS CiRCUIT advanced training programs boost intensity.
Finally, check out company websites and published product reviews to help narrow down your favorite brands and models. Ask friends, family and health club staff for recommendations, and make some notes to take to the store.
Elliptical Shopping Smarts
You can buy ellipticals at specialty fitness retailers, sporting goods stores, department stores, warehouse clubs and direct from manufacturers online. The best quality products typically are found at specialty fitness retailers, which have valuable expertise in fitness equipment and focus exclusively on this category.
Sporting goods stores sell a variety of goods, and fitness is just another department. Exercise equipment here is generally lower quality and price than that found at specialty fitness retailers, but staff usually has some training on the product features.
If you go to department stores or warehouse clubs, the quality of the equipment and the expertise and attention of the staff will decrease. With some, you may have to transport the machine home and assemble it yourself.
Finally, online sales may be convenient, but you don't have to opportunity to test-ride the machine, which is critical. And generally, you have to assemble the product yourself, and returns can be complicated and expensive when shipping a heavy, bulky machine.
Test Drive Your Elliptical
When shopping at a store, wear workout apparel and shoes, and ride multiple machines for at least 5-10 minutes each to get a feel for them. If several family members are going to use the elliptical, they should also try the machines.
Move forward and backward, change resistance levels, test different programs and ask questions. Notice the feel of the machine – both the legs and upper-body motion –to ensure that it is rock-solid and not wobbly, and listen to how loud it is.
Discuss the features with the sales associate. Premium fitness equipment today comes with a lot of bells and whistles. Think about what is important to you – such as heart rate monitoring, interval training workouts, a console fan, adjustable stride, ability to connect with your iPhone® or iPad®, etc. Some companies, such as Octane Fitness, offer free apps that you can use with its equipment to custom-design workout regimens based on your goals.
The highest price models usually come fully loaded. These can be great incentives and complements to your workout. But if you know you won't ever pick more than a simple manual program, it's smarter to opt for a more basic machine.
Request brochures to compare different models once you are at home, and to help you remember which ones were your favorites.
If you can, comparison shop to make sure you pick the best elliptical machine for your needs and get the best deal. Once you've settled on a unit, ask about special promotions and extras, such as free or reduced delivery and assembly, add-on accessories and an extended warranty. Specialty fitness stores may offer financing options, as well as service contracts or a session with a personal trainer.
Ultimately, once you have your elliptical machine at home, the most important thing is to use it consistently!