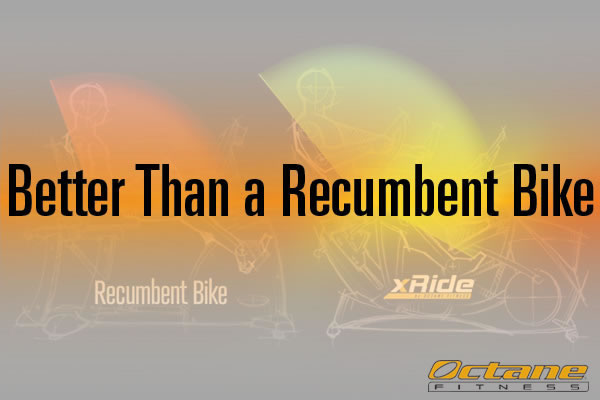 A recumbent bike is fine for ordinary workouts, but if you're looking to take your regimen up a notch, check out the recumbent elliptical like the xRide from Octane Fitness. This is the best seated workout you'll find anywhere.
Why? Because the xRide is loaded with benefits for exercisers. Among them:
Total-body workouts – with 23% more calories burned compared to a recumbent bike.
PowerStroke technology – this longer range of motion requires more muscle activation, and 343% more glute activity than a recumbent bike!
MultiGrip handlebars – engage the upper body and offer multiple hand positions for comfort.
Workout Boosters – Muscle Endurance, Chest Press and Leg Press elevate cross training and add strength challenges with intense intervals.
Forward and reverse motion – incorporates variety and emphasizes different muscles.
Customized comfort – the Active Seat Position offers numerous seat height and tilt positions that open the torso and maximize the use of the hip muscles for every size exerciser
You have to try an xRide to experience the unique workouts and reshape your thinking about seated exercise. Suitable for every level exerciser, the xRide offers leisurely programs or all-out, total-body blasts. Jump on an xRide at your health club or local specialty fitness retailer, and you'll never need to resort to the recumbent bike again!