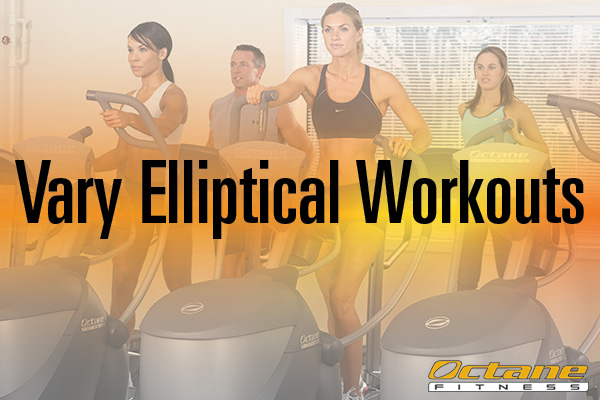 Elliptical machines provide great, low-impact workouts for beginners and athletes alike. With a variety of programs and good discipline, you can use elliptical machine with great results for many years.
However, if you are lucky enough to use an Octane Fitness elliptical machine, make sure you capitalize on built-in ways to maximize your motivation and help jump-start your results. Try some of the following terrific options to vary workouts and Stay Fueled:
Heart rate interval training – Using HeartLogic Intelligence, you can set your lower and upper heart rate limits, and with a program like Heart Rate Interval to combine lower and higher intensity periods, you benefit from a total-body blast that builds stamina and burns major calories
CROSS CiRCUIT – Octane's exclusive CROSS CiRCUIT routine combines cardio intervals with strength training exercises that use body weight, dumbbells, and Octane's Powerbands as a way to multi-task to the max and reap results from endurance and strength challenges
Workout Boosters – Take on X-Mode, GluteKicker and ArmBlaster to ramp up cross training with bursts instructing you to squat, lean back, go in reverse and more. You'll be surprised at how much you can vary your elliptical workouts and how the time flies by!
Squat  – To really work the lower body, try holding the stationary handlebars and squatting down, moving the pedals forward or in reverse. See if you can last one minute; then add more time. Interspersing squats through workouts strengthens the legs and adds motivating variety. Who knew you could squat on an elliptical machine?
Upper-body only – If you have side steps on your Octane elliptical machine, you can step off the moving pedals periodically and focus exclusively on your upper body. This is an effective way to sneak in some muscular endurance training, and you may be surprised at how challenging it is to make your arms do all the work.
With these unique options and the variety included in Octane Fitness elliptical machine programs, you stay motivated and on track with workouts. Make the most of your exercise routine by embracing variety and challenge!