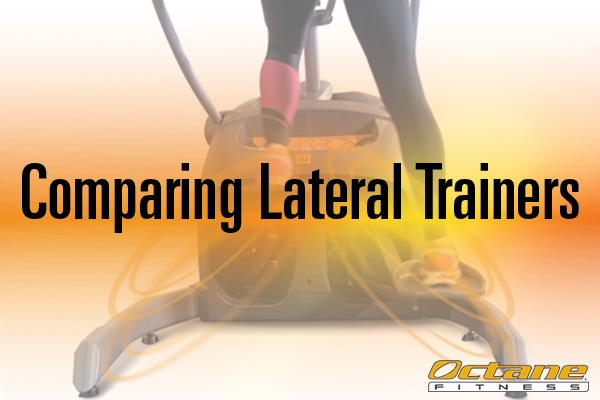 Lateral trainers present a valuable way to work the hips, inner and outer thighs and core, as well as to get a total-body, low impact cardiovascular workout.
Lateral trainers are a newer exercise modality, giving exercisers an alternative to all the linear movement they perform on treadmills, bikes, ellipticals, stairclimbers and more. The only true lateral trainers today are the Helix and the LateralX by Octane Fitness; however, that's where the similarities end. Here's how the LateralX has demonstrated superiority to the Helix:
Natural motion – Combining a smooth, 3-D motion that goes from a vertical elliptical stepping motion to an active side-to-side motion, the LateralX moves the way you do, with no learning curve.
Greater use of the inner and outer thighs – Research shows that the LateralX uses the inner and outer thighs 30% more than traditional ellipticals.
Higher caloric expenditure – University research shows that there is a 27% increase in caloric expenditure when LateralX users go from lateral width 1 to lateral width 10.
Adjustable stride width – On the LateralX, you can pick from and alternate among 10 stride widths, all electronically controlled by the touch of a button.
Upper-body ergonomics – The patented, one-of-a-kind Converging Path and MultiGrip handlebars better engage the upper body for a regimen that truly works the chest, back, shoulders, biceps and triceps. The arms don't just go along for the ride.
More workouts – With the LateralX, challenge yourself with 30 resistance levels and 13 workouts; the Helix only has 16 intensity levels and 8 workouts. More variety means greater motivation and results.
Advanced training – Ready to work hard? Try the 30:30 Interval program or MMA for exhilarating, ultra-intense sweat sessions that only the LateralX delivers.
Workout Boosters – Take on X-Mode, ThighToner or QuadPower to spike the intensity and add variety with various intervals that optimize cross training and maximize effectiveness.
CROSS CiRCUIT – Only on the LateralX can you benefit from this unique program that combines cardio intervals on the machine with strength training exercises adjacent to the LateralX for an all-inclusive, invigorating workout. No two sessions must be the same with the variety of CROSS CiRCUIT.
Comfort and convenience – Enjoy a console fan, soft-grip pedals and fingertip controls on the moving handlebars on the LateralX.
If you're looking to move your workout in a new direction, there really is no competition. The LateralX is superior choice.