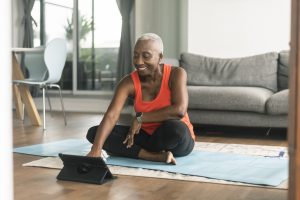 For the fitness industry, the world seems to be opening back up and some companies are working on returning back to normal. But will the world ever go back to being truly "normal"?
In 2020, most gym facilities and fitness related activities were shut down to reduce exposure to the COVID virus. Thus, leaving all gym goers wondering.. "what now?". People who said they would never be able to work out at home were now forced to pull out their yoga mats and search their basements for bands and dusty old weights, just to get by. Others were frantically scouring the internet for any equipment they could find fitting their new lifestyle such as functional pieces, rowers, ellipticals, bikes, and treadmills. Companies made moves into going fully virtual to keep their clients happy, healthy, and moving.
Today, you'll see many people who have created a home gym enjoy it in conjunction with their main gym facility. Most people say it saves time and is more motivating to get a sweat session done. It's created closer bonds with families, spending more time and being active together. Apps and online training are just the norm at this point and the options are endless. You can find anything from HIIT training weight-free to online strength training.
One big fitness trend that has been thriving online this year is yoga. 2020 was a crazy one and being isolated or quarantined, afraid of what could happen in the world really weighed down on everyone. This caused a rise in mental health issues and yoga became a lifesaver for many. 
With it's relaxing mantras and fluid movements, many people were able to find it was easier to slow down and de-stress while still getting in a great workout. The release of endorphins in any workout will be sure to help relieve stress, but with the true act and need to slow down with yoga, it helped many find the calm and peace they needed in an insane year.
Give a new yoga app a go if you're feeling weighed down or just want something new to try. You'll get to be involved in one of the world's longest, ongoing fitness trends and your body will reap incredible benefits from it.
Here are some of the top yoga apps in the Apple store right now:
Glo – Yoga and Meditation

Down Dog – Yoga

Yoga for Weight Loss & More 

Daily Yoga