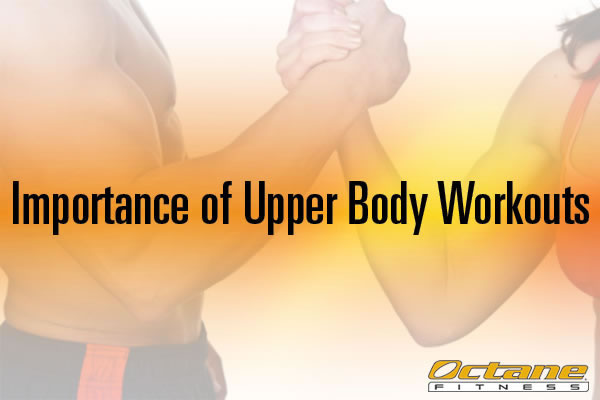 Sometimes, people that run, bike or do the stairclimber think that they've done a complete workout. And while these modalities are great, they don't work the upper body. Why only work one-half of your body?
It is important to challenge the legs, both with cardio and strength training, and the same goes for your other half. Here's a great way to get your entire body engaged in one workout – Octane's CROSS CiRCUIT. You hit total-body cardio with intervals on the elliptical and tackle upper- and lower-body strength moves in alternating intervals.
The beauty of CROSS CiRCUIT is that it's ultra-efficient and effective, and with your input, it establishes your upper body workout to ensure that you hit the important muscles groups such as your back, chest, shoulders, biceps and triceps. Using your body weight, Octane's Powerbands or PowerBlocks, you'll take on push-ups, rows, overhead presses, lateral raises, triceps extensions, biceps curls and more. Providing a full cardio workout, upper body workout and lower body workout all at once.
Even better, with CROSS CiRCUIT, every workout can be different, so that you won't get bored and your body will have to keep working hard. You'll burn more calories and fat while you tone up. Plus, you'll find with upper-body workouts that your physique and posture looks better overall. It will be easier to carry your workout bag, your kids and your groceries.
Don't neglect the upper body. Keep your entire body working – and getting better results – when you follow a rigorous routine like CROSS CiRCUIT. It makes it simple (dare we say fun?) to fit in an upper-body workout! Get going today!