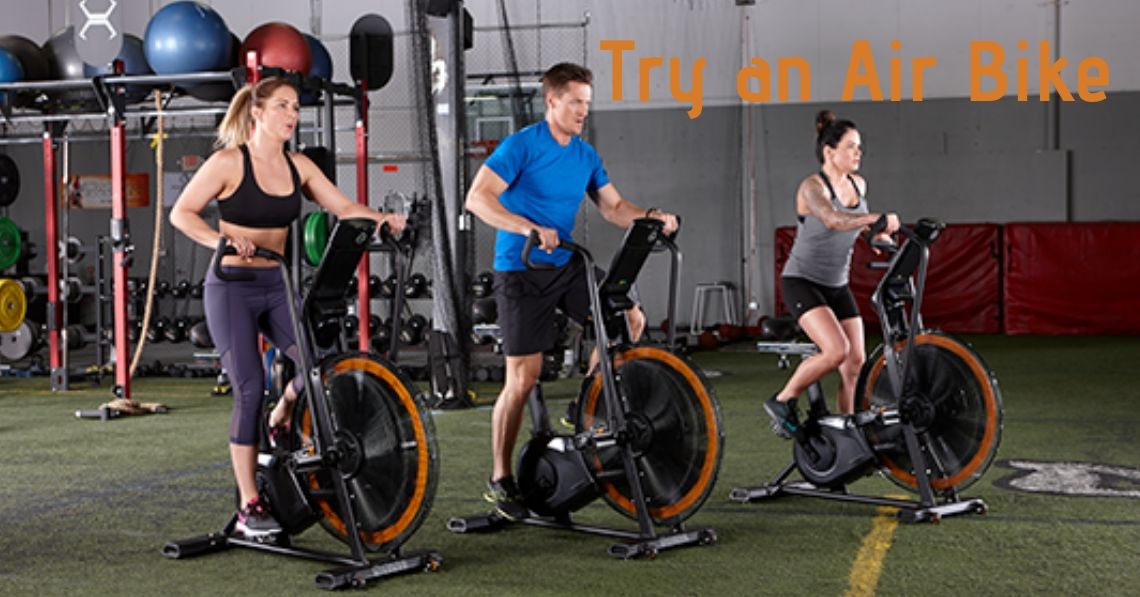 This summer, why not change up your workouts a bit? Although there's nothing wrong with a set routine, this season, try an air bike for something different. While you may think that air bikes are old school and just for seniors, you are wrong. It's true the Schwinn Airdyne is a classic piece of equipment, but certainly not obsolete. In fact, air bikes have seen a big resurgence with the popularity of CrossFit, circuit training and HIIT.
Try An Air Bike
So ditch any preconceived notions that it's not cool to try an air bike. Keep in mind some of its benefits:
Low-impact – No pounding on the back, knees or ankles
Seated – Good option if you're dealing with a cranky knee or sore ankle
Total-body – Use the arms and legs to hit more muscles and raise calorie burn
Virtually infinite resistance – You're the motor here, and the wind resistance increases as you go faster for ongoing challenges
Intuitive – Nothing to figure out; just get on and go
Comfortable – Multiple seat height and fore/aft positions, along with an oversized, padded seat, deliver custom comfort and biomechanically correct positioning; plus, MultiGrip handlebars offer different hand positions
Upper-body isolation – Use the stationary foot pegs to concentrate on the chest, back and arms
Effective – Choose Octane's AirdyneX to burn more calories than other air bikes, thanks to a custom-designed, 26-blade performance fan
Built-in cooling system – The faster you pedal, the more wind the fan generates to keep you cool
Smooth and quiet – Again, pick the AirdyneX or Airdyne Pro with belt drives (as opposed to chain drives) for fluid, quiet motion
Now that you're convinced to try an air bike at the gym – or snag one for home use (they are great values!) – here are a few ways to use the machine for sweat sessions.
Air Bike Workouts
Warmups – Not sure you're ready to spend more than a few minutes on an air bike? Start with a 3-5-minute warmup at an easy pace before you hit another machine or the weights. It's a great way to get your heart pumping and your muscles loose.
Steady-state sessions – If you're used to hopping on an elliptical or treadmill and maintaining a consistent pace and intensity level, do the same on the air bike. Keep a steady pace and RPM throughout a 15-60-minute cardio routine for endurance-boosting benefits.
Interval training – Set up your own regimen, or choose from preset programs to ramp up intensity and recover throughout the workout. On the AirdyneX, take advantage of Custom Interval, 30/90 Interval, or Tabata-style 20/10 Interval routines to improve stamina, blast calories and raise metabolism.
Target workouts – On the AirdyneX, pick a calorie, time or distance goal, input your settings and get pedaling. The console either counts down from or up to your goal, so you can keep a constant watchful eye on your progress and make adjustments as necessary to accomplish your mission.
Heart Rate Zones – Use this feature in any program on the AirdyneX to monitor your intensity. Press the HR ZONES button, and enter your age. The console calculates suggested values for fat burn, aerobic and anaerobic heart rate zones; and displays your heart rate throughout workouts when you wear a chest strap transmitter.
Circuit training – The air bike is an ideal station during circuit training, with quick and easy on-off and no time-consuming programming or adjustments.
Cool–downs – Again, if you are more of a runner or weight room fan, no worries. Hop on an air bike and pedal lightly to decrease your heart rate and cool down after any workout.